The Bennies
Lire cette interview en FRANÇAIS

The Bennies stopped by Winterthur in late 2016. Me and my girlfriend had the chance to chat with Craig and Jules for nearly an hour, and it was a blast. Huge thanks to her for helping me with the interwiew and special thanks to Ambrose for correcting the english version!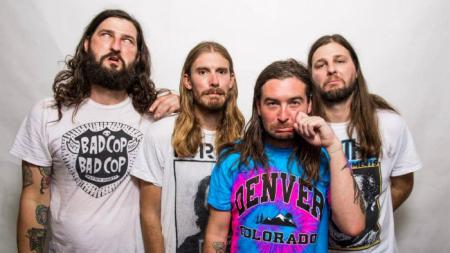 How would you describe your band to someone that has never heard of you?
 
C: We do basic psychedelic, reggae ska punk rock from hell, Australia.
 
There are way more bands coming out of Australia than 10 years ago; I think about Luca Brasi, Clowns, The Smith Street Band, Violent Soho etc… Did punk/alternative music become quite big there or do you think people are just more aware with internet?
 
J: Yeah the internet has definitely helped - but I'd put it down to a couple of things. A) We have a couple of big names and rock n'roll is something australia does really well. We're talking about bands like AC/DC, Rose Tattoo in the 60/70's, etc.. Then it passed on from generation to generation you know? The internet kinda replaced the local scene thing, you know, but that's okay because it helped local scenes gain wider audiences. We always had good local scene though. We've always rocked. Does that make sense? (Laugh)
 
You're such an active bands - you released albums and EPs in such a short amount of time - should we expect a new EP or LP soon?
 
C: Yeah, actually we recorded 22 songs for our record that came out this year "Wisdom Machine" - and only 11 are on the album. We also wrote a few new songs, so next year we're hoping to put out two (2) new releases or something like that…but we don't have solid plans because we're The Bennies and we like smoking weed (laughs). We should probably wait a bit more and tour this album for a longer time - but we get bored really quickly and we like releasing new songs quickly, so we will probably do that early in 2017.
 
What exactly is the Wisdom Machine? A kind of self reflection/introspection?
 
J: Yeah it's a concept - like everyone is wise and has a story to tell and everyone has different ways to tell it.
 
C: Just an example - for us it's music but it might be something different for you. Music is our vehicle to express our creativity and our wisdom; it's really about learning yourself and expressing yourself about what you love to do - that is the wisdom machine.
 
What are your thoughts on social media? Is it cool to be that close with your fans, or do you think that it's too much of an intrusion in your lives and they all think you're all super friends?
 
C: I think it's something we put up with because it is necessary as a band but I don't think any of us particularly like it. You know going on facebook now it's just a pain in the ass and complete bullshit but recently we got 13000 followers on Instagram and we got hacked and deleted and that cost us money. On facebook you need to pay money to promote your gigs meanwhile on instagram it's totally free and quicker. It really sucks that we lost our audience on IG because of that. As I said, although it kinda sucks to do all of those things, it's really necessary for a band.
 
 Can you tell me more about all the artworks of your albums? They look really cool and have a snowboard/surf/ skate vibes.
 
J: Oh yeah I can explain that, let's do it in two parts. The middle of the artwork of our new album came out because Anty, me and Chris from The Smith Street Band were tripping on mushrooms and we were at Anty's parent's place - and we were watching him draw…and we were like "oh yeah, that is amazing - and it looks mystical, so it's cool". Basically the cover center comes from anty's dad and I'm gonna let Craig explains the other part.
 
C: Oh it's pretty easy, it's Chris again, who is a really talented artist, that draws all this crazy psychedelic stuff around it. The Handwriting, the colors, everything comes from him.
 
Party Or Die Trying is kind of a joke reference to 50 cent right? Are you guys into hip hop at all?
 
C: Ahah no man, we just thought it would be funny - although some of us totally listen to hip hop.
 
You released a new record this year. I think songs are a bit slower but it sounds so great and really as if you put tons and tons of work in to it.  There are still all those super catchy choruses like on Party Machine. How do you compose your songs and what's the secret of those catchy choruses? Do you usually start by finding a super catchy chorus and the improvise from that? I also think that the record is a bit more serious lyrically, are you guys trying to go in a more serious direction or was it just how you felt it on the moment?
 
C: Oh we always write all the songs together, and usually we just take it as it comes you know? We start like the four (4) of us with the ideas we had at home but it's always small segments, not full songs. We never come to band practice and say :"You play this, you play this and I'll do that", it's more a vibe like "Check out that sick riff dude!" then we kinda add all of our ideas and start jamming for a while. Then we have a few beers. The four of us know that we're just trying our best to have a really cool song and there's never a problem when we say to someone like "Maybe you should change a bit the lyrics." or "This bass part should be a bit faster."  We're just four guys that love each other and all we want to do is to make it work - so there's no reason to say a major fuck you to your bandmates. You need those extra brains to fire it up!
 
J: Yeah we definitely build songs together, like Legos (Laughs). I would use an analogy to describe how we write songs. It's a bit like building a house, one of us is the carpenter, the other one is an architect etc.. You need everyone to work together and you need everyone's talent too!
 
 Do you guys have a system for settling disagreements on tour? Like rock paper scissors, trivia contest, airing of grievances - anything like that?
 
Both : Ahaha no we just talk - you know like adults. When there's only four (4) of you in a van - you can run but you can't hide. We try to care as much as possible about each other, and we're like brothers really. We have toured so much, we know when we can and cannot be annoying.
 
Is there something special between the songs  O Brother… Most of your songs are like 2.30 and this one is 10 minutes, did you feel like trying something different? Do you wanna try to write the new "The Decline?" (everyone laughs)
 
C and J: To be honest it wasn't our intention to write it that long. We just wanted to write a reggae song and we first wrote the first 2 minutes and a half and then we did a break and when we came back we asked ourselves :" Do we finish the song and let it like that or shall we go a bit further?" then we decided to write a punk song and got a bit tired of it too, so at some point we just did that as a whole long song and it felt really good and we were really proud of ourselves - we decided to leave it that way. It's for sure a really serious song lyrically and musically - and we wanted to show to people that even though we write fun party songs, we're doing that in a really serious way. And that song reflects us too, we're getting better and at some point we might even be good! (Laugh)
 
 
Did you see that the visas fees increased like 500% in Australia?? Hearing that it really seems like they're trying to make things harder on bands, or to kill the scene maybe; it will be way too expensive for international bands to come there so it's a loss for you and them right?
 
J: I have a fair opinion on this. If you make it more difficult for artists to travel, and if they're not fucking lawyers - and people in bands are rarely lawyers and earning big salaries – well…If now  the people in charge decide to add a tax to enter a country, it makes a few things more difficult. First, of course it's harder for bands to tour but also for Australian bands to meet with other bands and then other big inspirations. You know the people that are promoting these laws, they don't understand all the ramifications that their decisions can have. Music brings a lot to the economy in our country and I'm pretty disgusted by that decision because it's just an idiotic political move. Look - if you travel from switzerland to australia, it's already kinda expensive, it's one of the furthest point on the map from home and then that's how you're supposed to be welcome when you arrive? Politicians shouldn't make it harder for people to visit countries, it's already expensive enough.
 
I saw that you guys played a couple of shows in china, which is pretty unusual, any cool stories from there and how was the crowd reacting? Lots of people?  
 
C: Actually we already did two (2) tours in china, both really different and fun! Actually I think we were guilty of having preconceptions of what the country would be like and we were totally blown away. It's a quite a liberal, open place. It's tough to get in but once you're there it's just crazy. It's been a thrill for all! There's not a huge scene for music so we ended up playing with hip hop, electronical, heavy metal bands! We played in a super big town and they only had like 2 towns from out there. It was really a great time - even though we can't speak the language. A high five is universal man (he proceeds to high five me then!) and a smile too!  If we have the chance to do it again, we will all gladly go there!
 
 
You guys are nearly always on the road, can you survive with the band - or do you all have side jobs back home?
 
J:  Hmmm… We're in a weird situation. Let me explain a bit. People often think that you play in a band and – someday - jackpot, you can stop working because you're touring and playing around the world - so they think you're making money to live now. That's a big mistake. You don't wake up one day with your bank account filled just because you played a few shows around the globe. Most of the time, you still have your full time job back home and it is difficult.
 
C: Yeah, first you ask for more days off, then holidays, then unpaid holidays and after all of that you don't have much options, either you resign and continue to take music super seriously or you keep it as a leisure. We're at a point when we're only doing music now - but that still doesn't mean we can really live well (laughs). Travelling from Australia is really expensive and we're trying to expand in Europe and in the USA you know ? But before making a bit of money you need to come to a place like Switzerland at least 4-5 times.
 
So you're losing money on this tour?
 
C: Absolutely - but we got the opportunity to fly here in Europe and play show with two of our favorite bands and we can slowly build an audience so it's great! You know if you stay home all the time, no one is interested in you then.  Tonight maybe 5 people were here for us and next time we come back its 10 and that's super rad!
 
Do you approach a show differently if it's at a big festival like groezrock or a small venue? I mean setlist related.
 
C: We give everything all the time! Definitely if we have less time like 30 minutes, we're gonna try showing a bit of everything so maybe a bit of punk, ska, reagge.
 
J: Like a DJ set (all laugh). Back home we play 75 minutes sometimes so we try to make big parties and listen to what the crowd wants. One thing is sure, if you can play in front of 5 people you can play in front of 500 or 5000 for sure!  If 5 people come to see you, you better rock the shit out!
 
C: We once played a show in the USA in front of 1 person. So we said fuck yeah we're gonna rock the shit out for him. After the show, the guy comes, we high fived, and he turned out to be the singer of a band called Off With Their Heads (Ryan Young). Ryan then told us that we'll stay in touch! Now we have a good friendship with him - and if we sucked and gave zero fucks that night, maybe we wouldn't have had the same opportunity.
 
 Which country besides the USA has the best pizza? You cannot answer italy!
 
C: Japan!! They have some rad crazy pizzas there and really really good!
 
J: A pizza place in Melbourne Australia has definitely the best you'll ever taste. I'll write you down the name if you ever get there!
 
Thank you so much for your time, it was a blast with you!
 
Both : Thanks to you! It was really nice and the wine was good, hopefully see you soon!
 
 
Big big thanks to the Gaswerk that organised everything, that was really perfect. Go support your local scene!
Interview : Ludo-core
Plus d'infos :
Label : Poison City Records
Site Web : thebennies.com.au
Site du label: poisoncityrecords.com
Interview cliquée : 11301 fois
Interviews aléatoires :