Rise and Fall
Lire cette interview en FRANÇAIS

Rise and Fall is known for being a highlight of the current European hardcore scene. Before the release of the new record, due to this upcoming fall, we wanted to know a bit more about this Belgian band that has never stopped to astound thousands of kids worldwide with their tremendous mix of styles and their amazing live performances. Check out what Bjorn, the singer of the band, has to say!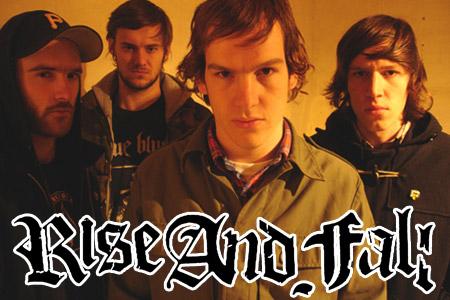 Hi Björn ! How's it going ?
Can you please briefly introduce your band, RISE AND FALL ? When did you start ? What have you been doing so far with the band through all these years ?
I'm doing good. It's sunday and I'm just chillin'. RISE AND FALL has been going for over 6 years now. Played our first show in March '03. We've released a demo, a bunch of EP's and 2 albums ("Hellmouth" and "Into Oblivion") since then. Last March we recorded our third album, "Our Circle Is Vicious" in Salem, MA and it should be out in October on Deathwish Inc. Next to putting out records we've been playing a ton of shows and have done a lot of touring. Our first tour ever was a 10 day summer tour in '04 that I booked myself, our most recent one was a 4 week tour through Europe with our friends in HAVE HEART and SHIPWRECK.

You come from Belgium, a country that is split into two distinct communities. Correct me if I'm wrong but I think there are people from both parts in the band, right ? Do you take it as an advantage ? Does it play a major role within the band ? And on a larger scale, what do you think of the language and cultural barriers some countries, like yours and mine, have to face ? Good or bad thing ?
Well, there used to be people from both parts of the country in the band because our previous drummer JP was from the French speaking part of Belgium. He's not in the band anymore now though, but he did speak Dutch real well and the difference in native tongue or cultural background never really was an issue between us. Belgium's a crazy place, it's super small, yet it's still divided into three parts that all have their own language... The Dutch speaking part where we live, the French speaking part in the south and than the tiny German speaking part in the east. I do think it's fascinating and really makes us an all together more interesting country. I won't be the one to wave the Belgian flag and plead for the country to stay together at all cost but I'm not really in favour of splitting the country in 2 or 3 either. If you ask me, differences in language and cultural background only make the world a more interesting place, I would hate to see that everyone spoke the same language, shopped at the same stores, bought the same clothes etc. Seems boring to me.


As a band, have your ambitions changed with the passing time ? I mean, were you able back then to picture yourself fronting one of the most respected bands in the Euro scene and, for instance, touring with huge bands such as CONVERGE back when you started to play together ? Have you ever imagined going that far?
Yeah our goals and ambitions have definitely changed over time. At first the band really was just a project between friends. All we wanted was to record an ill sounding demo and play a bunch of shows. Somehow things got out of hand, we went through a couple line up changes throughout the years and ended up doing a lot of things I'd never imagined us doing. We definitely are thankful for the chances we've been given and the awesome people we've been able to hang out with and befriend over time, such as CONVERGE for example.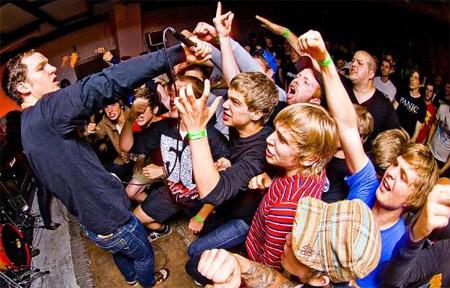 Have you ever encountered massive problems on tours ? If you have, what were they, what kind of problems ? Were they easy to get solved ?
Oh definitely. The worst problems usually aren't flat tyres, van accidents or trying to get into this or that country, they actually are when things within the band get rough and members would get into arguments and fights. I'm not going to get too deep into that, but in my eyes the bands' all time low point was when that kind of situation occured. And problems of that kind are never easy to get solved really.

What was the craziest gig you guys ever played ?
I always have a hard time answering this question because we've played so many shows and there's a lot of them that stick out for various reasons. It's not like every show we play turns into this wild battlefield with kids flying everywhere and hundreds of people singing along, we're not CONVERGE or CEREMONY or TERROR. But still, in terms of crowd response some of the craziest shows we've played would have to be Maximum Destruction Fest in Essen, Germany October '06 and Moshvalley Fest in Belgium July '09.

Now that you guys are familiar with both scenes, Europe and the US, can you see major differences ? Could you outline what, in your opinion, is different or the same ? How would you compare them ?
Both scenes are pretty similar I guess. American audiences tend to be a little younger and wilder, European audiences seem a little more mixed and a little older on average, depending on the show ofcourse. However, I don't think being into hardcore here or there is very different. The advantages Europe has is that we have more clubs, youth centres and places to do shows, while in America kids have to improvise a lot, so there's a lot of shows in VFW halls, basements and the occasional log cabin. I love both continents however. Europe is a little more familiar and safe, you get fed and get hooked up with a place to stay always, America is more of an adventure, you never know what's going to happen and you lose your mind when you get some food at the show. Pizza. Love it.

You guys dont really make pro-christian music, what do you think about the christian core scene ? Have you ever encountered problems screaming « forked tongue » at a christian kid's face ? Haha!
I've always been kind of hesitant on this subject. I do believe that hardcore is a place where people can express their views and beliefs, assuming that everyone listening is smart and mature enough to make up their own mind regardless. If there's bands that can sing about a drug free lifestyle, or Krishna Consciousness, or animal rights, or urban struggle, or communism, then why wouldn't someone be allowed to sing about Jesus? On the other hand, Christian bands slowly but surely becoming a "normal" thing to be exposed to in our scene has always rubbed me the wrong way too, because a lot of what those bands stand for is exactly the type of shit I was trying to get away from as a teenager. It's a mixed bag really. You could say that I personally oppose it, but I don't think those bands should not be allowed to do what they do.
Regarding "Forked Tongues", that song doesn't deal with Christianity or religion at all. Come to think of it, none of our lyrics really do, expect maybe "Live In Sin".

You seem to use a very satanic-inspired imagery, where did you get it from and how serious do you take it?
The artwork for "Into Oblivion" was all made by Jacob Bannon, and I feel like it reflects the vibe of the record well. Personally I've always seen the the religious imagery as a methaphorical thing. Christianity to me still equals a religion and a value system that was always kind of forced down my throat when I was younger, not so much by my parents but by schools and teachers and relatives and I was never comfortable with that. It's a religion that really has had a major influence on our Western society, in such proportions that we don't even notice it anymore I think. We've always had a more "what the fuck, fuck shit up" kind of approach, we want people to really question why they do the things they do and believe the things they believe in. Live life by your rules. Be a true individual. That type of thing.
As far as satanism goes, obviously none of us are satanists, but I know Cedric's done a lot of reading on the subject. He's also been known to retreat into a cave to listen to PENTAGRAM 24/7 and emerge again loaded with riffs.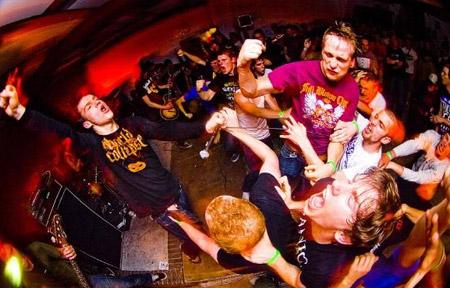 There are tons of people getting angry in the hardcore scene due to violence at shows ? In my opinion, if you play aggressive music, you'll get an aggressive answer from the audience… what is your opinion on that ?
The violence at shows thing has been an issue since I started going to shows and honestly I don't see what the big deal is. Sure, there'll be the occasional asshole here and there that deliberately tries to hurt people but all in all, shows here aren't all that violent or dangerous. If the crowd gets into it and is able to let go of some of that frustration and anger a lot of carry with us than that is cool.

What are your connections with Deathwish Records ? Have you ever met the guys or do you keep in touch via e-mails ? How does it work ? Do you have to show up at their office once in a while ? How do they manage their bands ?
Of course we've met them, it'd be so weird if not. Basically, Deathwish is run by Jacob Bannon and Tre McCarthy. Jake we met through playing and touring with his band Converge, in '04 I guess. At some point in early '06 they decided they liked RISE AND FALL and "Into Oblivion" enough to put out our record. Tre we met a little later on, I guess when we first toured the US in the spring of '06. We've been working together ever since and they really are awesome to work with, they really do care about their bands and will go a long way to help you out in any way they can. Next to Tre and Jake, they have swell people like Nicole, Dave, Andy etc. working at their office. We usually go hang at their office everytime we're in the Boston area. There'll be donuts, loud music, Tre's dog and good times.

Besides the band, are you involved in other projects related to hardcore or arts in general ? Do you run a record label or do a zine ?
We all have a couple of other things that we occupy ourselves with, but obviously RISE AND FALL takes up most of our time. Vince has another band called BLIND TO FAITH, which features members of REPROACH and AMEN RA. Their 12" just came out on Holy Terror Records, check it out if you're into headbanging and truly primitive punkmetal. Cedric used to play with RHYTHM TO THE MADNESS a lot, he also co-wrote their "Weltschmerz" album. If you haven't heard them yet, you're missing out. I have a blog for which I interview people that I like and write about stuff. It's called Mind Over Matter. That's it I guess.

What is the thing you really don't wanna forget when you go on tour ? Ipod ? Books ?
I usually don't bring my Ipod because it's old and the batteries only last 3 hours anyway. I always bring a bunch of books. A lot of fresh socks and underwear too.

What is the future of hardcore ?
TRAPPED UNDER ICE - "Secrets Of The World".

You know, I have RISE AND FALL tattooed on my forearm, partly because I'm a huge fan of your band, and I went to a doctor recently, he saw it and he told me « oh, you have rise and fall tattooed, is it a urban version of the yin and the yang ? ». I thought it was a smart definition, what do you think about that ? What would be your definition ?
Wow. I'd like to see that tattoo! Your doctor definitely is a smart man too. My definition is definitely tied to how relative everything is and how easily what we have now could be erased tomorrow. Most of the time though I simply think of how awesome LEEWAY is.

Some bands that really moved you recently ?
HAVE HEART. SOUL CONTROL. DEATH IS NOT GLAMOROUS. TRAPPED UNDER ICE. THE REACTIONARIES. DINOSAUR JR.

What are your 5 favourite albums of all time ? (I know, it's a very dumb question, but we ask this one to all the bands we do interviews with)
As you know, this is a super hard question to answer. I'm going to go for a random spontaneous top 5, ask me again tomorrow and it'll be different...
NAS - "Illmatic"
LIFE OF AGONY - "River Runs Red"
BLINDFOLD - "Asteroid 164"
CRO-MAGS - "Age Of Quarrel"
THE SMITHS - "Hatful Of Hollow"

One final word ?
Thank you for the interview !
Plus d'infos :
Label : Deathwish Inc.
MySpace : www.myspace.com/riseandfall13
Site Web : www.riseandfall.org
Site du label: www.deathwishinc.com
Interview cliquée : 17225 fois
Live Reports du même artiste :

Converge
Converge, Toxic Holocaust, Rise and Fall, Birds in a row
Date : 07.08.12
Lieu : Le Kab - Genève
Interviews aléatoires :