Falloch
Lire cette interview en FRANÇAIS

Falloch, young band hailing from Scotland, will release in september their first album 'Where Distant Spirits Remain', on the label Candlelight Records. Interview with Scott McLean, one of the two members.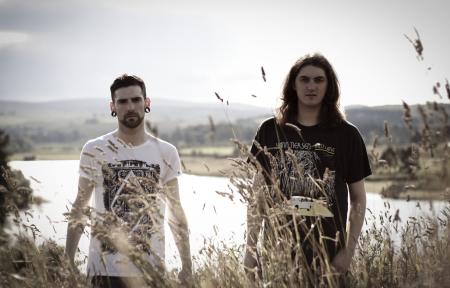 1. Where comes the name Falloch from, how did you pick it?
The name comes from a waterfall named the 'Falls of Falloch' which is north of Loch Lomond near Crainlairch in Scotland.

2. For now you are two people behind Falloch, how do you split the instruments, the composition, between the two of you?
On the album Andy did the vocals and the guitars as well as the tin whistle, while I did the keyboard based instruments and the drums. For live and future recordings this will most likely be different. The composition is nearly always done together. Sometimes one of us will come in with an idea but the overall song is always worked on by both of us.

3. What inspires you to write this music, what bands do you listen to? How do you proceed to write the songs?
There are many inspirations for our music. We really love the nature and landscape of Scotland, there is so much variation throughout it and the fact we have a weather system that changes so much, often the landscape is really enhanced by these sudden changes in weather. Our lyrics also focus on themes such as nostalgia, sorrow and longing. Musically we are both into so many styles of music, what bands directly influence us is hard to say as often with music we feel it's the feeling that is important not the style. We may be more influenced by how somebody has create a certain feeling, even though their style of music is completely unrelated to what we do. While making the album we were listening to a mix of Deftones, Alcest, Jeff Buckley and Drudkh. The songs often start off as a basic arrangement of guitars and drums. From there we develop the songs and work on the structure of them until we have something we are happy with.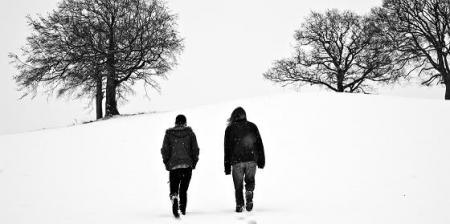 4. For your first album you already had the chance to work with a well-established label (Candlelight Records), as well as an almost legendary producer (Ronan Chris Murphy) - How did this come about, and how is it working out for you?
When making the album we always knew we wanted somebody else to master the album, Ronan was one of the first names we mentioned, so we got in touch with him and he seemed really keen to be involved. With regards to working with Candlelight it was pretty crazy, while having the album mastered by Ronan we were sent a couple of songs as a reference to make sure we were happy with how they are sounding. We ended up posting one of those songs on YouTube and within a day of it being online Candlelight were in contact with us asking to hear the whole album. Once we had the album back from mastering, we then sent it over to them and started to negotiate a contract.


5. You're from Scotland, a country well known for its whiskey, the bagpipes and the shitty weather – Which place does your country hold in your heart? Do you support independence from England?
I guess you could say that bagpipes and the 'shitty' weather are both an inspiration in a way. However, there are a lot of social problems and horrible places in Scotland too, just like every other country in the world. As for breaking up from the United Kingdom, we have no interest in politics whatsoever so we don't really care about it. It's mainly the traditional music, art and nature of our country that inspires us the most.

6. Tell me a bit about the Scottish music scene, and bands you can recommend?
We don't really pay much attention to 'scenes' but I think there is quite a big indie/folk scene in Scotland. There are lots of new bands coming out of Scotland but a lot of them aren't worth mentioning. I think one band that everyone should check out is The Twilight Sad.

7. How did you end up making music together, creating Falloch?
We've known each other for years and eventually we ended up playing together in a previous band, but after various problems with the other members we both ended up leaving within a few weeks of each other. We then decided that we would still like to work together which is when the idea for Falloch came about.

8. And finally, of course: what's your favourite whiskey?
We don't drink whiskey but we recommend Fraoch Heather Ale. It's probably the best ale we have ever tasted!
Interview : Loulou
Plus d'infos :
Label : Candlelight Records
MySpace : www.myspace.com/falloch
Site Web : www.falloch.com
Site du label: www.candlelightrecords.co.uk
Interview cliquée : 8558 fois
Chroniques du même artiste :
Live Reports du même artiste :

Darktroll Festival 2014
Agrypnie, Der Weg Einer Freiheit, Falloch, Harakiri For The Sky, Heidevolk, ...
Date : 06.06.14
Lieu : Burguine Schweinsburg - Bornstedt
Interviews aléatoires :