Crystal Viper
Lire cette interview en FRANÇAIS

After their wonderful first album 'The Curse of Crystal Viper', released in 2007, this heavy metal band became one of the most talented polish one. Five years later, the band just went better and heavier. Time to meet the female singer Marta Gabriel, before their show in Switzerland this fall.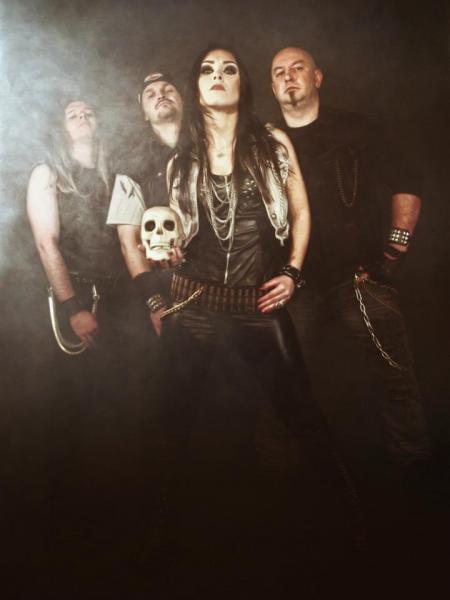 1. Hi! First of all, could you introduce the band to our readers?
Crystal Viper is a female fronted heavy metal band from Poland. In 2007 we released our debut album, and now we are just after premiere of our 4th one titled "Crimen Excepta". In the meantime we toured in most of European countries, and we played on some cool festivals. But now it's time to focus on new album and forthcoming shows.

2. You're playing a quite traditional heavy metal, but what do you think about the modern metal music/scene?
There are many genres of metal, and I think that it's good for all of us, because everyone is able to find in metal his favourite style, and bands. Of course traditional heavy metal is my favourite genre, but I also listen to other ones, like black and death metal, hard rock, doom, and many more. I also don't want to limit myself, and even if I don't listen to modern or so called "nu-metal" bands, I always try to check out new bands, and I like to know what is going on on the metal scene. And in my opinion, you will find in every genre of metal great bands, talented musicians, and nice people.

3. Usual question : what does it like to be a woman in the manly metal world? Are there any advantages/disadvantages?
Well, I think that beeing a woman in metal world is a great thing, because this kind of bands get more attention from the audience, people are curious how female fronted band sounds, behave on stage and so on. I've always been a huge fan of females in metal, bands such as Chastain, Warlock, Zed Yago, Acid, Blacklace and so on... I don't think there are any disadvantages, and when I think about myself in metal, I see first of all a musician and artist, beeing a woman is on the second place.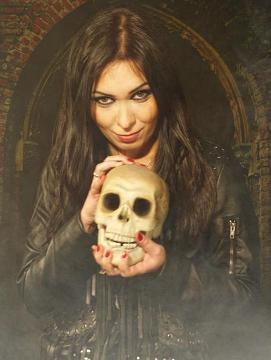 4. Could please tell us about the polish metal scene, is hard to become a 'famous' band? How are the metalheads over there? What opinion does "the mass" have about the metal music and the metalheads?
I would say Metal scene is not very strong here. I mean there are many underground acts, especially Black & Death Metal ones, but only few bands that keep on releasing albums, or which are playing regularly. It's maybe not so bad like few years ago, but in comparision to our neighbours such as Germany or Czech Republic, it really doesn't look good. When you want to go out, to see a good live show, there's nowhere to go, unless you wanna see band playing in a pub without stage and lights, between tables, surrounded by smoke of cigerettes... Even if some promoter takes a risk and organize something, ticket sales are so small, that he loose lot of money, and doesn't want to organize further shows, so it's worse and worse. Really good acts sell like 50-100 tickets for their live shows here. It's sad and kind of depressing here, most people prefer to stay at home and watch YouTube than go out and watch bands. Media created a lot of stories about metal music here, like some stupid ones: if you listen to metal music, you are satanist, pray to satan, don't recpect other people and for sure you take drugs. Not so much time ago I read in one magazine that "if your kid listen to metal music, try to understand him and help, because it destroys his psyche, and sometimes lead to suicide". It's so irrational and stupid...

5. You're going to release your fourth album 'Crimen Excepta', in wich way will it be 'new' ? What does it mean to you? Tell us about it!
Well, this album is a huge step for Crystal Viper, musically. I composed totally different songs this time, this album is heavier, darker, and more brutal, I mean it is still classic heavy metal album, but it has totally different atmosphere in comparition to our previous albums. I'm very pleased about the final result, and can't wait to perform new songs on stage!

6. Where did you pick the name 'Crystal Viper' ?
It actually happened in the bus, while we were going to the rehearsal room! I remember we wanted to have a classic heavy metal name, with a noun and an adjective in it, and to sound near to our metal heroes, like Black Sabbath, Deep Purple, Virgin Steele, Iron Maiden. Our name is also strongly connetcted with a fantasy story from our first album. And from the other side, Crystal Viper sounds really cool!

7. Could you name a few undergrounds bands who may got you influenced, in a way or another?
There are many great bands that influenced us, like Omen, Mercyful Fate, Warlord, Manilla Road, Medieval Steel... Also the whole New Wave Of British Heavy Metal inspire us very much. This list could be very, very long, but the most important is to find inspirations in music that you love, and in life that you really enjoy, because as long as you live for music, for making music, you are a happy person, and even when you have a bad day, you failed in something, there's always music in your heart, and it always brings you up.

8. You've got a show planned in Switzerland this autumn, where will it take place? We're looking forward to see you, what about you ?
It will our first time in Switzerland, and we can't wait for it! Place of our show will be announced very soon. Guys, expect a heavy metal fire there!

9. A last word for your fans and our readers?
Thank you for this interview, and for supporting Crystal Viper. We hope to meet with metal maniacs from Switzerland very soon. Keep It Metal!
Interview : Loulou
Plus d'infos :
Label : AFM Records
MySpace : www.myspace.com/crystalviperofficial
Site Web : www.crystalviper.com
Site du label: www.afm-records.de
Interview cliquée : 141055 fois
Interviews aléatoires :