A Wilhelm Scream
Lire cette interview en FRANÇAIS

Before their show in Geneva last month, Brian Robinson and Mike Supina, bassist and guitarist of A Wilhelm Scream, spend some time with us to answer to some questions.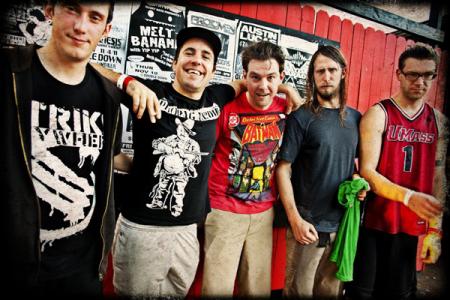 Sandra : If you had to introduce you to a person who doesn't know your band, what would you say?
Mike : You mean as far as explaining what we sound like?
Sandra : Yes
Mike : I've always said "skate-punk meets Iron Maiden". That's usually my explanation.
Sandra : And why?
Brian : I guess because, you know, we try to... We're a pretty fast band, we're in the faster realm of playing music in general. Guitar riffs and vocal harmonies and all that, we try to combine, you know, all the show-boarding type things we can into our music so. Iron Maiden is like the biggest show-boarding band on the planet and they're great at it. Yeah, that's an accurate assessment Mike, and proud of you!
Mike : Thank you!

Pete : Next question. So just for the information, I've got the bad and mean questions...
Brian : Oh, this is like good cop / bad cop, right? There should be like a light hanging over us and you should be like putting cigarettes out on our hands and shit...
Pete : So, about the band line-up : you've changed it several times, you're both more or less new in the band (Brian laughs). How was that going, joining a band that already exists and had tours and was famous?
Brian : I mean, I already knew the guys for quite a while before I joined the band and, you know, I had no reservations about trying out for the band because I knew that they were good people and I will get along with them very well. And when our old guitar player Chris (???) left, knowing I known Mike for a long time from my old band and I knew he had the same sort of personality that would fit into the band. After Chris had left, we had nobody to make fun of, so...
Mike : (Laughs) So now I'm that person, but it's OK, I like being made fun of!
Brian : Oh (Laughs)

Sandra : If we talk about the composition process, where is the limit between skills and technicality, and the catchiness and melody? On which one do you concentrate the most?
Brian : I would say "neither"
Mike : I don't know... I know that like when it comes to like the composition of the songs, there never usually is a limit, and if there is, it kind of … We either find our way round them or they work themselves out usually. We never go on with any kind of a limit, that's only bringing out to hear. There is no limit, you know, we just do what we try to do, and we come out with some really interesting stuff that way, because it pushes us as musicians to try and get better as musicians and the long run, it's a great thing. It helps the band grow.
Sandra : And do you still try to get better at guitars?
Mike : Oh yeah!
Brian : Always, always
Mike : There always gonna be somebody better than you, always, you know, no matter what, and I don't want to be the best, if you know what I mean, but I always want to get better: That's something I always wanted to do as a musician
Brian : And I think we've all got the passion and the drive to do so, I mean, we're all just really overall stoked on music and making music and, you know, getting excited about learning new things, pushing our skills and getting better at playing our instruments and singing.
Sandra : And do you play other instruments?
Mike : I tried to play the drums, I'm not very good at them but they're so much fun. Other than that it's mainly guitar.
Brian : I mainly play bass, but there was a time towards the end of high school where I got really interested in learning as many instruments as I could. I found out, I could not play anything with a reed in it, like a saxophone or clarinet, clarinet is the most awful instrument on the planet, but I did get pretty good at brass like trumpet and trombone mainly, not too because that's a tough freaking instrument to play: Lot of air, lot of air flow. I don't have that.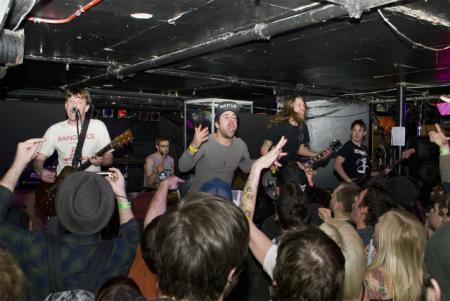 Pete : Let's go back to the "mean" questions, and for the record, I play clarinet.
Brian : Oh yeah, really? No, it's just that I've never heard like a really great sounding clarinet. Maybe like, you know, Gershwin's Rhapsody In Blue good, with featured instruments.
Pete : That's was because in the first years I learned to play music, I had to pick an instrument and because it was a classic music school, it didn't had guitar or drums, so it was like piano, violin or something like that
Mike : That's how I started of, I didn't have a piano, but a keyboard, you know, and I was always learning like Van Halen songs on keyboard or stuff like that. That's one of the first thing I started of doing, that's something I actually like to like visit again. Definitely get good at piano
Brian : Oh yeah, me too!
Mike : Because my father, he plays organ or like keyboards and stuff and he's really good at it and he plays guitar and he's nasty at that too. Yeah, I want to get good at keyboard, because, I love piano, the way it sounds. You can just make so many beautiful sounds on it you know.
Pete : So you think that growing up in a musical environment helped?
Mike : Definitely! My family was all music oriented, my uncle was in a band, my father was in a band...
Brian : His uncle was in The Romantics!
Mike : Yes, he had a band called The Romantics.
Brian : Never heard of The Romantics? Check them out! You will probably recognize a few songs!
Mike : My grandfather, his father though, had always sing in like church choirs, and my mother so. I was always something about music going on in the family, so I think it definitely helped out.

Pete : And what about the new album?
Mike : A new album? What?
Pete : You don't have a new record coming out?
Mike : No, I'm just kidding!
Brian : It's recorded and it's being mixed by Bill Stevenson right now.
Mike : Yeah... It's a... Yeah! What he said! I couldn't add any more to that, it's in the process of being mixed.
Pete : And what can we expect?
Mike : You know, it's kind of like dubstep and "dubstep bass-drop"
Brian : Euro-beats
Mike : A couple death metal songs... Trevor (Reilly) and Bill Stevenson were having a conversation through text when he got the stuff and one of the things he said upon mixing was that this album has the precision of Career Suicide, but with the heart of Mute Print. So I think it's got a good mix of songs, aggressive, and well varied, and a great mix of all kinds of stuff and we're really really proud of it.
Brian : That's what Bill said, not Trevor, by the way. Trevor didn't you know, say that to Bill.
Mike : No, no, no, that's what Bill said, I'm sorry
Brian : (Laughs) I just wanted to clarify.
Pete : And about the record label? Still on Nitro? Or Paper+Plastic?
Brian : I don't think Nitro puts out any record any more
Mike : Yes, we're done on Nitro. Right now we're talking with a couple of places, we're not quite sure yet. Some things are looking promising, we're just waiting, you know, for everything done before.
Pete : Maybe Bridge 9?
Mike : Not Bridge 9. We talked with them, but they weren't very interested.
Pete : Because at the moment, they're trying to find other bands
Brian : Other than hardcore bands
Mike : Yeah, I know, I know. They've got like Polar Bear Club too. They've got that harder edge, but it's not quite hardcore. It didn't really work out, I guess, we're not what they were looking for.
Brian : Yeah, fair enough
Mike : So we're just moving on and taking it one day at the time, but we're talking with couple places, couple labels.
Sandra : And when can we expect it?
Mike : We're hoping for August, but with the way those things always work, you've got to get the artwork together, and find details. Hopefully in the fall, that would be a nice time.




Sandra : About the self-titled EP, on the B-side, are these songs covers?
Mike : One of the songs was a cover, it was Your Love by The Outfield, it was on an Australian release of the EP only. At the time, we were listening to that song after every show for a while in the US tour, we would put that song on and just scream on the top of our lungs in the van.
Brian : We even got drunk and play this a few times too. We weren't completely shitfaced, but we getting there. We bust that out in between songs
M :..It just became that thing that we were like "Oh, let's just record that because it will be a lot of fun too". So we did that. But there were these other songs by the band's alter egos called The Guys Downstairs and there are a few songs that came out on the vinyl actually. They are members of the band that formed a new band to write songs about fun stuff
Brian : They're just goofy songs, just as getting our stupid personalities into songs, I guess. Yeah, just stuff for fun.
Mike : I expect the next Guys Downstairs out to hit soon, in like 5, 6 years (laughs)

Pete : A question about venues in the US, because I've read that moshing is now forbidden in Massachusetts, police made shows stop because of that...
Brian : That's just recently come about, it's essentially I think the catalust for that happened in a Flogging Molly show at the House of Blues in downtown Boston. And I guess what happened was, not the band, but the club got fined for moshing. I guess that's the new rule there, no moshing around Boston.
Pete : But it's a part of the show. You miss something when the people stand still
Mike : It just depends. If people don't mosh but it's like, say for instance tonight, if nobody mosh but is a pack of room of people with everybody with a beer in their hands and be like "Hey, I love you men", that's still a great time.
Brian : Yeah, people don't have to be fighting
Mike : I mean people don't have to be ape ship for us to have a good time, you know, but definitely when they do, we feed of it as well. It is what it is, I don't get upset if people don't or if they do, you know. Unless they're one stage, knocking Brian's microphone over or fall Nick's drumset. Or pushing my guitar out of the way
Brian : Knocking Nuno in the crutch, which has happened, and it's not fun to watch
Mike : It is what it is, but it's still great (laughs)

Sandra : Random Question : if you could choose any band, in what band would you like to play the most in?
Mike : Back in the day, it would have been rad to play with Thin Lizzy, like if Phil Lynott came back from the grave and did a reunion tour, I'd love to play with Thin Lizzy
Pete : And Gary Moore too
Mike : Yeah, that would be a lot of fun to play in that band. (laughs)
Brian : My answer would be Jamiroquai
Pete : Because of the bass line?
Brian : Yeah, that's exactly why! We were listening to Jamiroquai the other day, and I was like "Man, I would kill just to spend a month", just a month, you know, and be paid as Jamiroquai's pay as well (laughs)

Pete : During this tour, what are you listening in the van? What's the soundtrack of this tour?
Brian : We have this really funny audio clip of our drummer Nick, completely drunk of his ass, trying to sing Lifetime, and, oh, he's got this on his phone! (laughs) This is the thing that. You guys wanna hear exactly what we have listened to the most on this tour?
Mike : This is Nick Angelini attempting to sing a Lifetime song, not sure what song
Brian : We don't know what song it is, but that's what he said he was trying to sing
Mike : But it's been a big hit
(Nick singing)
Mike : That's been our soundtrack pretty much, we've been listening to that like, for four hours (laughs)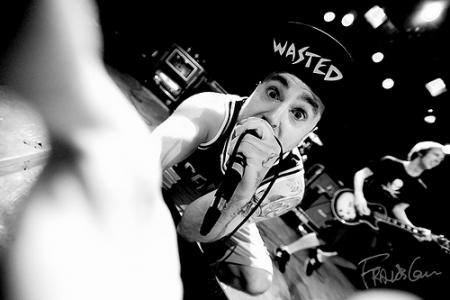 Sandra : If it's not too personal, what do you do in life, apart from the band? Do you work? Can you live on the band's money?
Mike : It's a little harder to sustain these days, like just living strictly of the band, you know. We all have forms of work when we are off the tour, like Nuno, he works at a fantastic restaurant-bar-burrito place, it's the best place in the world. Trevor and I, we record bands. Trevor, his got a studio, that's where we recorded the album. And whenever he's got bands and stuff, he asks me to assist him and help with whatever can be done, that's another passion of ours and stuff. And band has girlfriends and stuff too so there's different things we all do.
Brian : I'm looking to relocating myself to Montreal so I can teach up there, I actually started teaching music up there and our drummer Nick is building his own snare drums now. It's called Wail City Snare Drums and if you're a drummer looking for a Whale City join, you call our drummer Nick, he'll let you know what's up.
Mike : He'll build you a fine ass snare drum!... That was too personal, by the way.
B . Yeah, that was really personal. I'm embarrassed...

Pete : You look like enjoying touring. What is the best part of it?
Brian : Playing the shows! Easily, playing the shows, going on stage and having the best time of our lives, with four of the best friends.
Mike : I agree with that
Pete : A special best tour?
Mike : One of my favorite tours could probably be the last tour we did in Europe, which I believe was in August. That was probably one of my favorite tours, just a lot of fun stuff happened and a lot of fun friends. The last show of tour, the very final show of the tour got canceled and it was no way for us to drive to it.
Brian : We were in southern Italy
Mike : We had rules with our driver. He could only drive so many hours, and if he got caught, he's get fined so we decided to go to the beach instead which was not 5 kilometers away. And we told people that were gonna go to the show to come to the beach, we did an acoustic set and drink beer. The waves were violent, most violent like the water 's been around there in years and years from what local said. And then Nuno and I went drunk out of under this peer and the water splashing us, and those little crabs climbing over our feet, it was dangerous and scary and fun, but there were a lot of cool memories like that on that tour that I think was really great. That's my answer. Final answer!
Pete : Sure? You don't want to call a friend?
Mike : Final answer! (laughs)
Pete : Or 50/50
Mike : 50 what? 50 million? 50 thousand? 50 bucks?
Pete : 50 cents?
Mike : I'll buy a can of soda (laughs)
Sandra : and what is the worst part of touring?
Brian : Smelling bad... At time, we try our best to stay as clean as possible but sometimes it is a struggle. Losing things too.
Mike : That happens. You can definitely get a little ripe if the tour goes long and if you don't get a shower, but personally for me I got this questions asked before in an interview with Nick, and for me, the worst part of tour is nothing. Because every day, I'm in a new city that I've never been to and it's like today, I've never been to Geneva. I don't have seen much of it, but I've seen the mountains when you drive the way in, and that's something I've never seen before. Every night talking to new people, either they'll be very interesting, fun people or very interesting crazy drunk people or just flatout assholes or... I don't matter, there is no bad part of it, cause you always have a story. It's something like somebody else, a lot of people wish they could have opportunity to do. I love it all
Brian : He also said that because he showered today. (laughs)
Mike : I did shower today.
Brian : Your hair looks great today
Mike : I brushed my hair today too, as fine as it looks like
Brian : No, no, it still got some consistency
Mike : I don't have any nodes as you can see. Ask me later, after the show! (Brian laughs)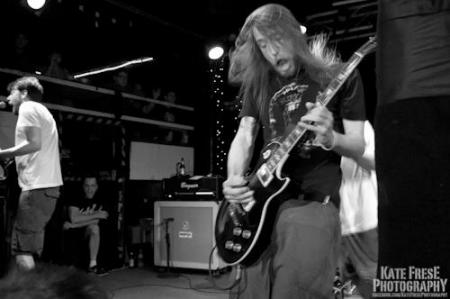 Sandra : Again about touring, you are one of the first band who have gone in the eastern part of Europe, and Portugal too. Now it seems that it has become easier to go there, how was it like?
Brian : It was a trip, I would say.
Mike : Yeah, it was very interesting to go to lot of places we did, countries that I really thought I will never go to
Brian : Interesting clubs and interesting nights happened, like we played in Serbia, in Belgrade, and we played a club that during the day is a shooting ranch. Like if you're standing right there and the stage is here, there were the lines and the targets, and all over the ground were bullet cases. We had to wait for them to clear out the shooting ranch so we could load in our gear to the club.
Mike : It was pretty wild and pretty awesome.
Pete : But that's nice from you because for a lot of bands, touring in Europe is UK and Germany. So we appreciate when you guys can come closer.
Mike : It's great, I mean, even we want to play in Ukraine, until back on the question "what was the worst part of tour", still not a bad part of tour, but we have gone to Ukraine and we were held up at the border for 6 and a half hours, just like nobody knew what they were doing. It was starting to get on everybody's nerves but once again, it makes such a great story when we played the show and it was great and later on that night we got wasted and then more things happened where, you know, just sketchy things but it was still made for great story and I'm glad we did it.
Brian : And just to add on that, one of the highlights of this tour for me is when we played in Macedonia for the first time, and it was on April 1st, which is you know April fool's day, and I think this only happens in Macedonia but for April fool's day, everyone dresses up like it's Halloween! Like they dress up! We didn't know this at all, until we got to the show and there were people dressed like girls in wedding dresses and ghost make up and guys with like Beetljuice pants on. I got my picture taken with a guy that look like an extract from Pirates of The Caribbean, and the winner of the costume contest that night from on stage was a dude, kind of chubby, wearing a diaper, had wings on and a little bone arrow, and a Spiderman mask. And then he drew on abs with a permanent marker. And I got my picture taken with that guy, because it was hilarious.
Mike : That was pretty great
B . That was the highlight of the Eastern block for me because it was so weird, one of the weirdest show we played, but it was fun

Pete : We can see these days a lot of musicians playing acoustic songs or having acoustic projects. What about you guys? Any side projects, acoustic or not?
Brian : Actually we did the one acoustic thing in Toronto which was kind of badass.
Mike : Yeah that was a lot of fun, we did Fun Time and then we did a Guys Downstairs song actually. We did acoustic style like that.
Brian : I got put my upper bass out. It was a lot of fun.
Mike : It was good time doing that. I also know that Trevor writes a lot of music and he's been writing a lot of songs that, from my understanding I think, are songs that he's working on just his own, just him, his own thing. I've heard some stuff he does, it's awesome, it's incredible.
Brian : It's really really good.
Mike : During the process of even writing the album, when I should have been writing lyrics, cause this is the first time a had a chance to like write some lyrics for the band, for this new album, Trevor coached me through it cause he's an amazing lyricist. But even during that period when I should finishing lyrics for songs for the album, like even I found myself like writing songs, like just for me. You know what I mean, it was really cool and I was very thankful that I had Trevor to coach me and get me explore new things like that. So it's fun to actually step away from things like that, having an acoustic guitar, just think. I love that, it's pretty cool. I can dig it.

Sandra : What is the question you always wanted to answer during an interview and no one ever asked it to you?
M: "Mike, why do you look so damn good?" and my answer would be "Well, I do nothing to maintain this look. It just happens"… I made all that, that's a joke that's a complete joke (laughs). For the real part of the answer I have no idea. No, I'm very bad at interviews as you can tell so (laughs). I don't know.
Sandra : Something you always wanted to tell about your band or about you?
Pete : Maybe a subject that you care about?
Brian : "Why happened to Mike and when did you recruit Jesus Christ as your guitar player?"
Mike : Yeah.
Brian : (Laughs) It was fair to happen in one of the interviews. I'm sorry Dude!
Mike : I'm gonna go with that one.
Brian : "When did you found out you were the son of God?" and are you happy to be back? (laughs)

Pete : You are not the main sports guys of the band…
Brian : No were not.
Pete : …but are you into sports? Or just Nuno and Nick are?
Brian : I'm really into hockey, like I really enjoy. I try to keep up with well since I joined the band, I can't really follow my team, the Toronto Maple Leaves, but they never win anyway. But I follow the Boston Bruins and I'm a big fan of theirs. But Nick he's very into basketball.
Mike : And Nuno and Trevor, they dig baseball, basketball, football. Nuno like football too, like soccer. I like all sports, I enjoy all sports, I'm not like die hard about them, it's something I always wanted to get more into, whenever I watch games with the guys like I do get into it but when I hear the, talking sports like I wish I knew more because I don't know shit about sports. But I do enjoy when I watch sports, especially with the guys and have a beer. I don't know enough about it and didn't invest enough time into it to you know be right there with them, bullshit about it. You know what I mean. But I do enjoy it.
Pete : And still about sports, there is some argument between for example New-York (Rangers, Yankees,…) and Boston (Bruins, Red Sox,…). Is there also that king of argument between bands?
B: I remember, this isn't my story, but Nuno told me about this. One night, we were in Canada, we were on tour with Comeback Kid and Madball. And obviously you know Madball is from New-York. Nuno was telling me his story about how... I think we stayed in at the same hotel one night and Nuno and Freddy Madball were in a elevator together and he was just like "I don't like your sports teams… But I think you're pretty alright". Nuno was like "I think alright too man". So I don't think it's like much of a serious thing, it's not anything that would start like a hard hard argument. But our old guitar player was from Connecticut and he was a Yankees fan and that's like "in" the band and I remember them talking shit to each other all the time but it was always in good fun. I don't think it's anything overly heated.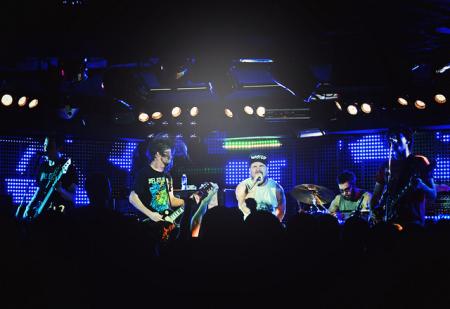 Sandra : Is there an artist or a band that you're "ashamed" of listening to?
Brian : Like a guilty pleasure?
Mike : I can admit, I haven't listened to them in a long time, like a really really long time, but I have to admit, every time I hear Paramore on some sort of radio or something, I enjoy the shit out of it, just because, I think she (Hayley Williams)'s got a beautiful voice. You know I love the melody, the way she sings, the tone of her voice. That would like my guilty thing. Whenever it comes on, I don't mind, I'm like "that chick can thing", she's great. That would be my guilty pleasure that I can think of right know.
Brian : Mine would be, let me think, I'm not even ashamed of it. It's just like something I listen to all the time. David Bazan who used to thing in a very very christianny indy band called Pedro The Lion, but now he has he's own thing and I listened to him all the time because it's sad bastard music for old people. And I love it. I love to delight on other people's pain and I'm a scavenger of human misery. And I'm not ashamed of it.

Pete : Do you have any advice for our readers? Any band you really like and you want people to know?
Brian : Bon Jovi is great. Van Halen is great. AC DC, they're a good band.
Mike : The Taken Black, a band called Lungs from Australia and an other band called Raindance form Massuchussetts, New Bedford area and a band called Failsafe from the UK, they're fantastic, I really enjoy this band, they're fantastic.
Brian : And a band from Montreal called the Laureate they're sort of like Napsac meet Samiam type of like mid-nineties emo punk but before it was like screamo or anything like that you know when emo was like more underground and they're a great band with an extremely attractive bass player, who I'm dating (laughs).

Pete : I think we missed a question, about Internet technologies.
Brian : Internet technologies? Tell me more!
Pete : MySpace, Facebook and Spotify. It's about the way how people can so easily listen to music, and as musicians, how do you feel about that? Is it OK that more people know your band and maybe you sell a bit less albums or you're kind of old school guys and you prefer sell records than be famous?
Mike : I don't think it's about being famous, it's not that at all. Selling records is just cool for the fact of selling records, like when we sell vinyl, it's really cool. Because vinyl sound is just really great, you know, especially on like old analog system, vinyl sound stellar. But as far as the music is getting out there, it's great, because it's getting out there. You will always have somebody new who hears your music because for the internet and for all you know, that person may flight thousand miles just to see you, just to see your band, that's like mind blowing, and it's all because of the Internet. I mean, as it's up and down, the downloading stuff, at the same token, they might come by and buy hundred dollars worth of merchandise, shirts and CDs, and tell their friends. I think it's a great tool to have the free promotion.
Pete : When I was younger I only had a few CDs, but I really knew them, and now you can just download the whole discography of a band. If somebody get your four CDs at the same time, maybe they just listen one or two times and not really listen to them, just hear them in the background.
Brian : There is the debate. That's the bad side of the whole thing. You're overexposed to too much music at one time and there is a lot more exposure for bands on the Internet but that means there's thousands of a band all clambering for the same exposure. That's the debate and personally I'm kind of excited because long gone is the days of like Guns and Roses getting a million dollar album advance to spend on like fucking whores and drugs and shit. Music is slowly going the way of how we first started, trying to put our music out there. Pushing harder, trying harder.
Pete : So now it's more about the music than about the rock star kind of thing.
Mike : Yes, it's always about that, it's all about the music and K7 tapes are coming back
Brian : Yeah!
Pete : That's what Jesus said, so it has to be true !

Sandra : I think we're done, any final word for our readers?
Mike : Thank you for checking out the interview, and thank you both for having Brian and I be a part of the interview.
Brian and Mike : Merci beaucoup!
Mike : And I hope to catch some of you at a show. And if you mention that you read this interview, I'll say "Thanks for reading that", and I mean it.
Brian : And you win a firm handshake from Mike, Son of God! (laughs)
Sandra and Pete : Thank you guys!
Plus d'infos :
Label : Paper+Plastic
MySpace : www.myspace.com/awilhelmscream
Site Web : www.awilhelmscream.com/index.html
Site du label: paperandplastick.com
Interview cliquée : 40293 fois
Live Reports du même artiste :

Xtreme Fest
NoFX, Converge, Bane, A Wilhelm Scream, Sick Of It All, Lagwagon, Raised Fist,...
Date : 01.08.14
Lieu : Parc Expo - Albi

A Wilhelm Scream
Rentokill, Shadows of Defeat / Rentokill, No Good Men
Date : 02.12.09
Lieu : Werk 21 de Zürich - 03.12.09 / Warmaudio de Lyon
Interviews aléatoires :