Fall Apart
Lire cette interview en FRANÇAIS

Email interview done the 04.12.2008 with drummer Mike and guitarist Dominic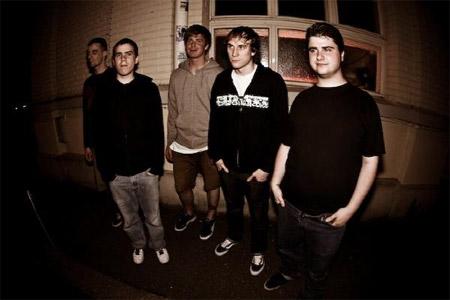 Hi ! How are you ? Can you tell us a bit about you, as individuals, and about your band FALL APART ? What do we need to know ?
Dominic: Hi ! Ok we have Beni, he plays guitar and other than playing in the band he studies journalism and records bands. Pascal is our singer he works in an office. I don't know exactly what he does; I think he sells paint or something like that. On weekends he rides his downhill bike. Andreas our bass player studies history and runs a mail-order called Arctic Radar, (www.arctic-radar.com) check that out! I play guitar and work in an engineer office for plumbing, heating and air-conditioning.

Mike: Well, I'm Mike, I play the drums. I work as an advisor in a factory for people with a disability. I also set up shows in Schaffhausen (www.myspace.com/worldindecline), play in some other bands and skateboard from time to time.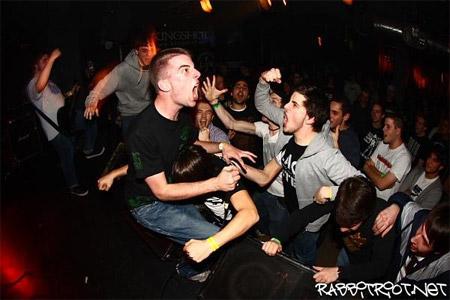 When did you start the band ?
What was your main goal as you formed FALL APART, initially ?
Dominic: The idea came when our old band broke up. I guess it was in summer 2006. Beni and I decided to do a new band together. We asked Adrian who already played in another band with Beni and me to play drums. I knew Pascal from shows and asked him if he wanted to do vocals for us. Pascal also brought Andreas to the band. Adrian left the band this spring and Mike replaced him.

Correct me if I'm wrong, but it seems to me that you don't live all in the same city. How do you get organized when it comes to doing rehearsals ? Isn't it a bit complicated ? Did this geographical distance represent some sort of test, so that you know if the band could somehow work out or not ?
Dominic: Yeah that's true. Mike lives in Schaffhausen. Pascal and I live in Winterthur, Andreas lives in Basel and Beni somewhere between Schaffhausen and Winterthur. We just moved all our stuff from Schaffhausen to Winterthur. It takes Andreas a 1 hour drive to Winterthur so he does not come to every band practice.

Mike: Yeah, but it's not that difficult because Beni studies in Winterthur and I work there..

I think that some of you used to play in other bands before, didn't you ? So, in which bands did you play ?
Dominic: Every one except for Pascal has some experience in other bands. Mike was in some local punk bands and plays drums for a Rock'n Roll band called THE BODY SNATCHERS, he is also involved in some other projects. Andreas used to play guitar in MR. WILLIS OF OHIO. Beni sings for a Rock'n Roll Band called THE REDNECK ZOMBIES and I was in WITHIN WALLS for a while and play bass in SOLID GROUND.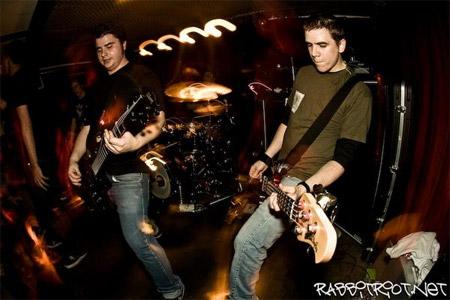 In regard to those many experiences within bands, have you noticed any big differences depending upon each band, and beyond the musical styles ? I mean, are those experiences quite similar to one another, or do you see each of them as being one of a kind ?
Dominic: I was in bands where we really had no ambitions, just practiced once in a while, played shows around our neighbourhood, stuff like that. We started Fall Apart to do a little bit more of a serious band. We wanted to put out records, go on tour and stuff like that. I think that's the main difference between Fall Apart and other bands I was in.

Do you think that the hardcore shows in our country should be « All Ages » ? The question used to be discussed at length in other contexts apparently, but I doubt it's still relevant today in Switzerland, I'm not sure it gets discussed that often anymore...
Dominic: Well sure I think shows should be all ages, but I don't think it's a big deal in Switzerland to come into a club to see a hardcore band if you're under 16. I can't remember ever having problems getting in at a show when I was a young kid.

Mike: I agree with Dominic. I never had problems because of my age. The problem at some clubs is the thing with selling alcohol and the rules about it. But in my opinion clubs should have another solution than telling kids to stay outside and miss all the cool concerts!

I don't know what is your vision on the current hardcore scene, at least on a local scale, but if there was one thing you'd like to change about this scene, what would it be ? Is there any characteristic related to the scene that you particularly dislike nowadays and that you wish you could bring a remedy to ?
Dominic: I think violence is still a problem sometimes. We never had problems with that at FALL APART shows, but I played shows in Germany with SOLID GROUND where people totally needlessly kicked around them and hurt other people. There were also people with "Pro Violence Hardcore" shirts, which is just stupid. Also, I think it can be hard for a new kid to come into hardcore. It's a pretty elitist scene sometimes. I wish people were a little more open minded.

Mike: That's true, but I also think that every city or country gets exactly the scene that it deserves. I mean if there are idiots at shows who think violence is cool or necessary, they're still a part of the scene. So if you don't like them, tell them to stay outside and let the "too young kids" see the show… otherwise you're a part of the problem as well.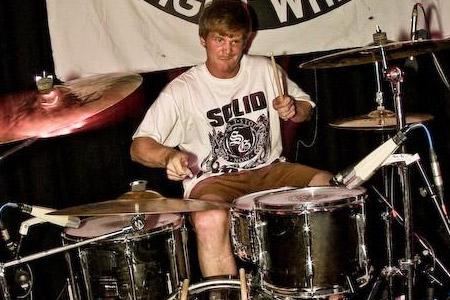 I think we're more or less part of the same generation. So you've probably been confronted to the army these last few years, right ? What are your thoughts about it ? Have you had the « chance » to go to the military service ? Do you know if you all share a common opinion on this topic in FALL APART ?
Dominic: I'm against violence, war and weapons so why should I go to a place where people play war for fun? Beside that I think it's just a big waste of money and we could use this money for something more useful. They spend so much money on weapons and stuff. I acted ridiculously stupid so they didn't want me to serve haha!

Mike: I never wanted and never will go to the military service. I'm officially disabled and
I'm glad about it. The military service sucks and like Dominic already said, it's a waste of money, time etc…

Dominic, you seem to be someone who needs to expend all his energy on stage. Are you concerned about the impact you may have on the audience when you're on stage as a musician « in action » ?
Dominic : Actually no, I usually don't realise what's going on in front of the stage. I have to make sure that I play my guitar well haha!

Mike, you're still relatively a newcomer in the band.
How did your integration within the band go ?
Mike: It was pretty easy. I've known Dominic since our childhood. We went to the same school and we were friends since I can remember. We also played music together in the past so everything felt really comfortable and it's always a pleasure to write songs with him. Everything works well and it's fun!

You have just released a new 7inch. What can you say about it ? Is it still in the same vein as the first songs you wrote or do you think there's been a notable evolution ?
Dominic: We're really glad it's finally out. We had so much trouble with releasing that 7". The recordings are almost two years old. The songs on the 7" are some of the first Songs we actually wrote. We recorded and released our demo in winter 06/07 and recorded the songs for this 7" a few months later. When we started the band first we didn't really have a plan of what we wanted to sound like. It just came how it is and I think we're still progressing.

Mike: I think the new songs that are not on the 7" are more straight ahead and simple. They're fast and short.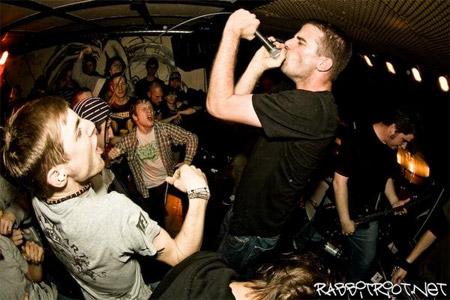 What are your lyrics about ? Are there topics you're more likely to write about?
Dominic: Pascal writes all the lyrics. Some of them are really personal topics like the song "Holding This Moment", others are more general or critical of society. We do not have a main message with this band. If you can identify yourself with a text line, or start thinking about something because of our lyrics that's cool. If you're looking for someone who tells you how to live you're life, go search somewhere else!

Tell us a bit more about the latest tour you did with SEED OF PAIN ! How was it ?
Dominic: What's better than spending Christmas evening in a squat in Slovenia, with drunk crust punks? We had a lot of fun, especially at the shows in Slovenia, Slovakia and Poland, that was a great experience. SEED OF PAIN are good friends of ours and a great band. Travelling around Europe with your friends is one of the best things you can do.

Mike: I wasn't on that tour. But we were on a small trip with them last summer. All of them are very easy going and nice. I like hanging out with them and they're a cool band.

You'll be on the road again soon, but this time with an American band called THE EFFORT ! Do you know this band ? Have you got any apprehensions about it ?
Dominic: I didn't know the band before. I saw a Youtube video where they covered an IN MY EYES song, so they must be good. We're really happy that we get the chance to tour with them and play some countries we haven't played before.

Mike: I have their LP, it's cool. It reminds me of VERSE; melodic, political with some soft parts. We're already in contact with them via e-mail and they seem to be very nice people. The tour is gonna be amazing!

What are your five favourite records of all time ?
Dominic: Here some I really like MINOR THREAT-Out of Step, EMBRACE-s/t, JUDGE-Bringin it Down, CRO MAGS-Age of Quarrel, UNBROKEN-life.love.regret, OUTSPOKEN-everything, IRON MAIDEN-The Number of The Beast

Mike: I can't just mention 5 records… but I really love the records of BOB DYLAN, JOHNNY CASH, TRACY CHAPMAN, WOODY GUTHRIE, MINOR THREAT, BLACK FLAG, LO FAT ORCHESTRA, BANE, FACE TO FACE, GANG STARR, NEW MODEL ARMY, CHAIN OF STRENGTH, DEAD KENNEDYS, 7 SECONDS… (the list continues)

Here we are, that's the end of the interview ! Thank you for your time ! Would you like to add something? Vielleicht könnt ihr etwas auf Französich sagen?! Dominic, ich weiss du bist fähig! Haha!
Dominic: Merci pour l'interview. A bientot & ne mangez pas les escargots!

Mike: Thanks for the interview and "Vive la France"
Interview : Bastien
Plus d'infos :
Label : Fields of Hope Records
MySpace : www.myspace.com/fallaparthc
Site Web : Pas de site
Site du label: www.fieldsofhoperecords.com
Interview cliquée : 60005 fois
Live Reports du même artiste :
Interviews aléatoires :