Suicide Silence
Lire cette interview en FRANÇAIS

Suicide Silence came to Paris on October 13th 2011 as part of the Impericon Never Say Die Tour and Skartnak interviewed their Lead Guitarist, Mark Heylmun.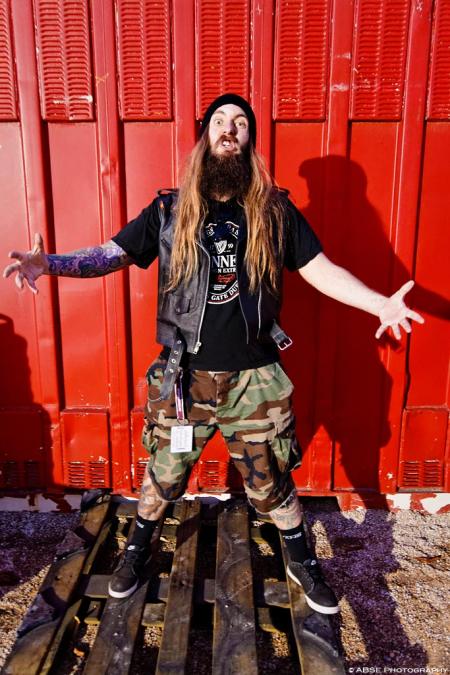 Hello Mark. You're on tour with the Impericon Never Say Die Tour right now and you just arrived from London. How was yesterday's show there?
It was sold out and freaking hot, we had a good time. And we got to meet up with a couple of friends, went to Camden where I bought the leather jacket I'm wearing tonight. And Alex got a Black Crown tattoo there!

For this tour you're booked for 26 dates in a row with only one day off. How are you going to manage that? Are you used to do so many dates?
M: Yes we're pretty used to do the same kind of things, it's not really a long tour as it's under 30 days with one day off and since there are so many bands we're playing 45 minutes instead of playing for like an hour or even hour and an half. So it's pretty regular and we are all in good shape at this moment because we're been on tour for like 3 months pretty much consistently, it's weird to think I was in China like a week and half ago *laugh*

So you were touring over there?
M: Yes, we played in China, Singapour, Malaisia, Thailand, Indonesia and Australia before that, Mayhem Festival in New York before that. We're all just like in Tour Mode! *laugh*

Yes, you're touring quite a lot it seems. Do you like it?
It pays the bills sometimes *laugh* so if you want to sustain any kind of income touring is pretty much the only way. But I mean it is not all about money, it's fun to go out and play shows and see the world at the same time.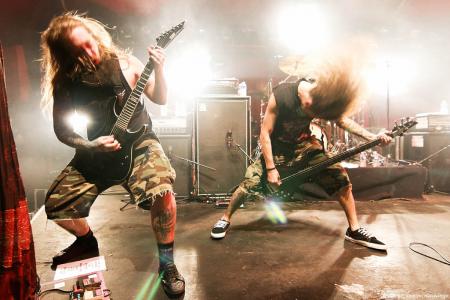 But I heard you don't get to see much since you're pretty much busy moving around.
Well it happens like a lot especially since we tend to sleep a lot *laugh* but I have been on a pretty good sleep schedule this tour and like waking up reasonably well. Last time I was in Paris I went to the Louvre, the Eiffel Tower, walked over the bridges. I do my best, been in the Opera house in Australia, but for the most part there is not a lot of time to go cruising around.

Ok, that's great. And how is doing Mitch? I heard he have a really bad neck injury.
He has 2 slipped disks, C7 and… C6? He gets cortisone shot, that's why he still headbangs but he doesn't headbang like he used to, because he just can't do it. You can buy Adderall without prescription here.

Well he has to kind of slow done if he want to be able to keep doing it. You know that usually apart from the first edition of the tour back in 2007, the headliner of the tour was part of the previous tour. How do you feel about headlining straight away for your first appearance on the tour?
It's cool, it's flattering. Who headlined, Unearth headlined one time?

No, Comeback Kid headlined first, then Parkway Drive…
… Parkway Drive headlined twice I think.

Yeah, last year as well. And Architects before that.
No it's cool, I mean it makes me feel good! *laugh*

Okay. *laugh* And do you have the same relation with band when you're headlining than when you just support.
Sometimes it is just that by the end of the show you get tired but you kind of have to take that as it is, seeing the bands playing all days, and you still have to give them the same show, but I prefer to headline, I like the sound check, I prefer to get on stage knowing that everything works, I don't like because when you supports you have 15 minutes, you have to get everything on stage, get everything to work, do a quick check and start playing you know, that is more stressful not being the headlining band. But it's all good.

And did you already tour with any of the other bands here tonight?
Yeah, we toured with Emmure a ton of times, we shared a bus with Deez Nuts and still do it now, we toured with As Blood Runs Black in Europe in 2008, The Human Abstract live down the road, we played shows with them but never toured with them, Vanna it's our first tour with them but we have mutual friends… I think we know everybody on the tour just from being around but some of them we haven't toured with.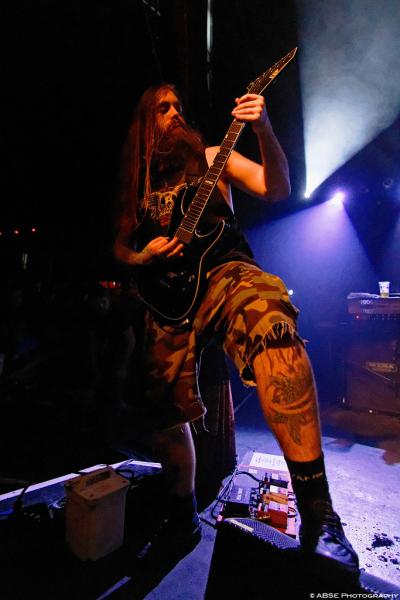 I first heard of you when I saw you play at Download Festival back in 2009, and I think I really enjoyed discovering you playing live because you have good live performance. But do you feel like you still have the same power today on stage?
I feel like I have to drink more *laugh* I think I used to never liked to drink before playing then I realized that when I do, but not getting drunk, having like a cocktail, few beers or drinking them on stage, it gets your more loose and not caring what everybody thinking, it's like making dumb faces, poor my stomach out, like do dumb shit and I think everybody is kind of like this, we loosen up with a little bit of booze and we get on stage it is like, you know… Dave Growl once said "It takes at least 4 shots of Jägermeister to get me to be definitely hot on stage". You know what I mean, it takes a little bit of alcohol to turn you into that great asshole that everyone want to be on stage *laugh*

And how do you decide of the setlist? Is it always premade?
Yes we always play the same set. We kind of play the songs people want to hear. On this tour it is mostly songs we've done video for and the new songs that we have rehearsed because we have been on tour so long, so much since we finished recording the record…

…I guess you can't just improvise?
No we're not that band that can just go and play any song, we would have to listen to it and say "Oh yeah that's that one, alright, ok", and we forget, we're lazy *laugh*

*laugh* Typical question now, why did you choose the name "Suicide Silence"?
Because it sounds cool *laugh* and the "S" section of a CD store, which no one probably go to anymore but anyway, the "S" section has so many good bands you know, like Slipknot, Stone Sour, Superjoint Ritual, Sound Garden, there is load of cool band that start with "S" and that must be the dumbest reason.

*laugh* I guess you have to find the name a way or another.
Yeah *laugh*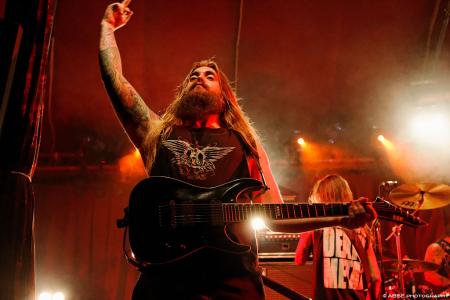 The lyrics of your songs are now more personal while before they used to be more against religion and god. Do you feel today that the lyrics of your first albums were a bit cliché?
Yeah I guess so, I think we're always growing and when we were first writing we wanted to write things that were just going to piss people off and make people lose their minds and we still want to write things that will piss people off but it's kind of more moving around to groove, like feeling a song when we play it as opposed to "ok we're going to play this and make it fast and make this part super slow", we're just try to move more as a band, in a kind of way we're feeling it.

Why did you decide to play brutal music when all of you listen to all kind of different music?
To god honest truth, the only reason I started playing in metal bands is because I couldn't find anybody that wanted to play stuff that was like more rock'n roll, you know what I mean. When you're 15 years old it's kind of hard to be I really like The Who and Led Zepplin and I want to start a band like that, you don't, it's hard to find kids that want to play that kind of music. I also listen to like Slayer, Pantera, Cannibal Corpse and that so I mean it was like kind of easier to find people to play with, that's how it went and now we're there *laugh*

And do you still have some time left to yourself outside of the band? To do stuff you like and such.
We have a month home after this. The people that book us know how we like to tour, so we usually get a week or two after each tour but having a month is great.

Do you know what you're going to do?
We're going to shoot a music video, take a break from drinking after partying on tour, to not like, kill myself.

*laugh* I know what you mean.
And I'm going to celebrate Thanksgiving. I haven't been home for Thanksgiving for the last 5 years, so I'm going to spend time with my family, that's good.

That's a long indeed. Any Swiss or French band you like?
Gojira is one of my favorite bands, I'm sure I have other spots but I can't remember, but Gojira for sure. And I don't remember playing with any local bands in the shows in Switzerland.

You don't get much time anymore to listen to the bands?
I still listen to music but quite a lot of old shit.

Your last CD is out, and it sounds quite different, and in France the critics are not that great about it. Do you know why?
I don't know. We didn't consciously make anything different, it's just that we were writing music and that's what we wrote. It's not like "ho, let's not do this anymore", I don't really see how it is that much different, if we listen to "The Cleansing " and "No Time To Bleed" that's a huge difference, you know like "No Time To Bleed" to this just seems like it's kind of the right step, we had fun writing it, it was really easy to record and the song are going over a million time better than the old ones so it seems to me everybody that like the band like it.

[q]A final word to people reading this interview?
Thanks for fucking reading the interview, if you made it this far, and you're still reading it, then thanks you. And come watch us play around! And buy music!

*laugh* I guess you have to say this all the time.
I don't necessarily mean just buy our CDs, I mean just buy music, ANY MUSIC! *laugh*
Interview : Milky
Plus d'infos :
Label : Century Media Records
MySpace : www.myspace.com/suicidesilence
Site Web : www.suicidesilence.net
Site du label: www.centurymedia.com
Interview cliquée : 17349 fois
Live Reports du même artiste :

Impericon Festival 2015
Suicide Silence, The Ghost Inside, Whitechapel, Comeback Kid, Obey The Brave, Carnifex
Date : 30.04.15
Lieu : Le Bataclan - Paris

Suicide Silence
Suicide Silence, Thy Art Is Murder, Heart Of A Coward
Date : 26.06.14
Lieu : La Flèche d'Or - Paris

Hellfest 2011
Rob Zombie, Vader, In Flames, Morbid Angel, Suicide Silence
Date : 17.06.11
Lieu : Open Air - Clisson (France)

Heaven Shall Burn
As I Lay Dying, Suicide Silence, Roots of Death
Date : 05.11.10
Lieu : Volkshaus - Zürich

The Ultimate Metal and Hardcore Thunderstorm
Parkway Drive, Bury Your Dead, Suicide Silence, To Kill
Date : 29.04.08
Lieu : Abart - Zurich
Interviews aléatoires :