No Use For A Name
Lire cette interview en FRANÇAIS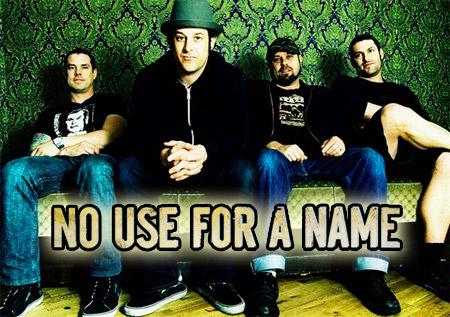 After 20 years, what keeps you guys going ?
Metabolic steroids. No really, I think it is the joy of playing music for me. I really love playing up there on stage, not so much because of adoration but because of the nights when everything just locks into place. Musically it is challenging to write for No Use ,in a good way, and that keeps me busy which usually keeps me happy.

You have a large discography, how do you choose the songs to be played live on stage ? How do you select them ?
Right now we have a pool of 30-35 songs that we all can play and I scramble them every night. When we come to Europe I would like to kick that number up to 50-55 so we can play different songs that we never play live.




Do you ever read the reviews on e-zines and magazines talking about your CD¹s or your concerts ? Are there any positive or negative ones that struck you ?
What did they mention ?
Sure, there are both. If I am still attached to the writing process coming into the release of the record I feel vulnerable because of the emotion that was put into the songs, and when someone just says "it's okay I guess" after taking 10 months to write it and get it right it can be crushing. But being a writer you also have to realize that your neck on the chopping block is also a part of the process. And then the positive ones; I try not to let them go to my head. You have to be level to write. I don't recall any specifics about reviews other than "our new record is good" and "he was really drunk on stage". I'm trying to correct that by the way. The thing to me about music critics is, I think I would rather hear from a writer or a musician's view point on what is good or bad. I realize that there is art in that kind of journalistic writing also, I would just rather hear it from someone in the field.

After numerous albums with Ryan Greene, why did NUFAN decide to change and record with Bill Stevenson for The Feel Good Record of the Year ?
When you go to record a record the first thought is to not make it sound or feel like your previous record. We knew that because of that thought, everything had to be different and approach was #1. It's nothing against Ryan, he is great but it was about making a difference. Bill and Jason are top-notch at what they do, above and beyond.

What about the name of this new album ? How did you finally choose the name : "The Feel Good Album of the Year" as the title of this album ?
I don't know. A big giant list of 100 titles was put on the studio wall. The bummed out lyrics and sarcasm of that had a lot to do with the final decision. We almost called it "the other white album" ...which is great and we are going to use it next time.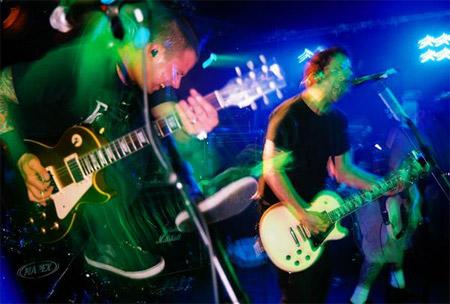 Bands as Blink 182, Good Charlotte or Simple Plan have all signed on major record companies and are widely distributed in the whole world. Your music is "similar" to those bands and it could easily be played on MTV or various radio stations. Has NUFAN been approached by major record companies ? How do you feel about this ?
No, not really. We passed on so many in the mid-nineties that I think they said "fuck them"! The way I look at it, yes we have a polished sound, but at heart we have always been very punk rock in how we operate. I just think the big labels and TV stations are like "oh yeah NUFAN, that band from the nineties that wouldn't sign and play the game?...they blew it". But see, I really don't care and in that is the ideology of what punk is all about.

You have released almost all your albums on Fat Wreck is it a sort of family business?
Yes it is. They have done a lot for us over the years so we just stay with them.

One can feel that you have reduced the speed of your songs on your last albums. What can answer about that ?
That the newest one is faster. But the ones before I don't have an explanation. I don't write with a formula or inhibitions because I think people want us to sound certain way. They do. People want us to re-make "leche con carne" or "making friends" but I cannot make something that has already been made. Some people are okay with putting out the same record over and over, I'm not. At least from a writing perspective. I am aware that some of our stuff sounds the same but I think that comes more from the 4 members as a whole, each one having their own style I guess. And the fact that we have over 100 songs.

What kind of music influenced the band 20 years ago and what are you listening to right now ?
20 years ago it was bands like Bad religion and NOFX. Now I listen to everything for everything's sake. I listen punk, and folk and indie stuff. basically anything.

Do you get inspired by the latest bands or do you keep being inspired by the older ones ?
Both. I used to get inspired more by peer bands, but it seems like I can get influence from just about anything now. I am really into my solo stuff and writing that. Really getting into folk and using my punk influences to write some acoustic stuff.

It's almost 20 years that your are on the musical scene. So you have almost 2 generations following you. Do you still get lots of the first generation (early) fans in your audience ?
Yes and I find that they usually are getting out to have a drink while the kids are with the baby-sitter. They want to hear old songs and we are going to do that in Europe.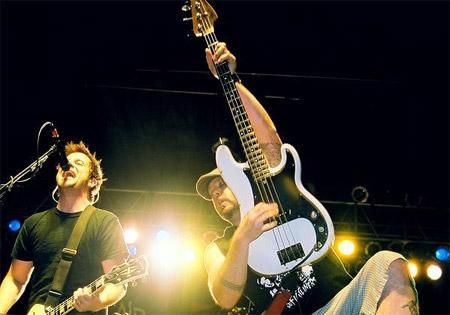 How do you feel about the changes in the punk scene compared to how it was when you began ? Do you think the word "PUNK" has got the same signification as 20 years ago ?
No. I am so tired of talking about the meaning of punk to be honest, is it thinking for you or is it a hot topic gift card? I don't know anymore. I think it has been re-defined and I don't have the new dictionary. I love punk but I hate the word.

You've toured with some incredible bands. What has been your best tour experience so far and why?
Can't compare them really. I have been very lucky to tour the world with my friends and play to thousands of people. Each tour has a special memory for me that I will always love.

Whats the weirdest thing a fan as ever said / given you?
Some of the gifts from Japan are different. Some girl gave me a bottle of Absolute vodka last time. I thought it was weird to get Absolute vodka as a gift in Japan. Don't get me wrong though, It did not go to waste.

So what do you guys do now when you're not on tour? Do NUFAN members have day jobs ?
My day job is being a musician. Dave teaches guitar lessons, Rory owns a snow-removal business in the mountains, Matt plays video games and runs out of money, respectively.

What do you think you'd be doing right now if you had never been part of this band ?
I might be homeless. I never really had another "real" job.

If your job was to interview bands, name one that you would want to interview and something you would definitely want to know about them.
I wouldn't want to know anything more about them really but I would interview Oasis. They are so full of themselves that it would be incredibly fun just to hear them answer my questions.

Do you know any Swiss bands ? Or what are the European bands you like or know best ?
The Vomitors are amazing!! I love those guys. They had a fireworks show after their set once and then we had to follow them and it was the worst set we ever played. Also this band, Snitch, we took them with us last time. They're cool dudes.

Thanks for taking time to answer ! See you in Geneva!
Plus d'infos :
Label : Fat Wreck Chords
MySpace : www.myspace.com/nouseforaname
Site Web : www.nouse4aname.com
Site du label: www.fatwreck.com
Interview cliquée : 14643 fois
Chroniques du même artiste :
Live Reports du même artiste :
Interviews aléatoires :