Real Deal
Lire cette interview en FRANÇAIS

Email interview done on 07.10.2008 with Cesare and Grant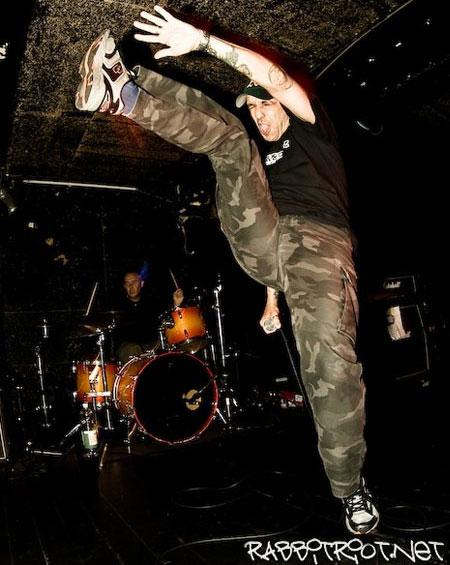 Real Deal is a band whose members come from three different countries, England, Italy and Switzerland. Having recently seen them at a show, for their comeback after a 15 year long break, I was curious to know more about this gem of the Swiss hardcore scene. Grant and Cesare accepted to answer my few questions. The interview was done by mail and each one answered on his own side, therefore there's a few repetitions.

Can you please introduce yourselves in a few lines ?
Who are you and what do you do in REAL DEAL ?
Cesare : I am Cesare, I am the singer and I write the lyrics.
Grant : I'm Grant and I play the drums.

Can you briefly give an historical account of the band, so that we can understand where you come from and what you've been through as a band ?
Cesare : The original nucleus of the band started to form in 1988. Me and Giulio, our former guitar player, at the time were playing in CRASH BOX (an Italian HC band based in Milan). During that summer CRASH BOX's singer left the band for personal reasons, so we decided to start a new band. I was living in Switzerland for a few months when I met Grant who had just come from England, too. We started to talk about music and we discovered we had a lot of tastes in common so he joined the band almost immediately. We both had tough jobs, and after work we went to Milan for rehearsing. Sometimes we came back to Locarno around one past midnight and I had to get up at half past four to get back to my job. Which was cleaning up some dirty buses, by the way. That was the beginning of REAL DEAL. A few months later we were already recording our first demo in Turin, then we were contacted by Far Out Records who wanted us on Avalanche 2. It was a great compilation of Swiss groups, and we got to know great people as PROFAX and many others from the Luzern and Zürich scene. In 1990 we recorded our record at Dynamo studio in Zürich, and until late 1992 we played in Italy, Switzerland, Austria and Germany. We played together with great bands as SNUFF, CRO-MAGS, YOUNG GODS and NEUROSIS. It was a great time, man. But we split up at the end of 1992 for personal reasons, but I think that me and Grant, together with Maurizio (our bass player) and Giulio (our former guitarist) never forgot that experience. And now we're back, with the exception of Giulio who has been replaced by Stefano, another great friend of ours. And we're still ready to deliver some good HC, I think.

Grant : We started to practise as a band in 1989 but the actual concept was born in 1988 when Cesare and I met each other in Locarno. I had just moved to Switzerland and was looking to form a new band. Cesare was playing guitar in the Italian HC band CRASH BOX together with Giulio but they wanted to something different, a band with a more aggressive style, exactly what I wanted to do! So there we were, Cesare singing, myself on the drums and Giulio playing guitar. We didn't have a bassist right in the beginning so we asked Mila (a good friend of ours) to stand in but he soon got bored after a couple of practices. These early rehearsals were held in Locarno in an underground cave where DINOSAUR JR once played. Cesare then asked his brother Roberto if he wanted to join as he was already a good bass player, he agreed but we had to go to Milan to practice. This is when the band really started to work together and slowly grind out the songs that were on the 1st record. Cesare and myself would finish work in Locarno at 17.00 hrs and drive straight down to Milan, cross the city.




What pushed you to reform the band ? Is that related to the state of the current scene ? Or maybe in reaction to what's happening in the world nowadays ? Or even something else ?
Grant : Nothing really pushed us, it was just one of those moments like in the beginning really, the need for a change, this time a radical change for myself…I hadn't been playing in a band for the good part of a year or so (after having had some serious back problems) and was really missing playing the drums in a band. I'd quit my previous band just over a year before because I just wasn't motivated to continue playing in local rock bands without an edge to them. I'd grown up playing in punk and hardcore bands and there was always something more than just the music, a message which was delivered with the music, be it a political, spiritual, positive or negative there was always a message and during this time that I was inactive musically I kept saying to myself that if I was going to play in a band again it will only be something that I really want to do, no compromises! So then one day in may, last year, I went to see MATAMACHETE in Lugano. They were basically the other guys from REAL DEAL with various other musicians but it's really Maurizio's personal project. They are really good too, check 'em out! Anyway, a couple of months after this gig Cesare called me up and told me that he'd really like to reform REAL DEAL and asked me if I was interested in participating…I was a little surprised but I didn't have to think too long about it and agreed there and then. It's also definitely a reaction to what is happening in the world today and I suppose to what is not happening in the hardcore scene…It seems to me that there is no protest anymore, no angry youth questioning authority anymore. Everything is taken for granted and just simply accepted. Of course I might be wrong and just out of touch and if I am I hope to be corrected.

Cesare : After we split up I passed throught different stages on my life but I never stopped playing. I was in other bands (one of them was the underrated KICKSTAND, where Stefano was playing guitar), but I have always missed something. Then last year Maurizio gave me "American Hardcore" DVD. I watched it, and it was like an electric shock! I realized what I had been missing through all those years…the ferocious impact, the harsh sound of real hardcore. When we play we feel like riding a raging wave just before plunging into a fucking dark maelstrom…it's a wonderful feeling and I don't want to miss it, never again. The following steps were obvious: I called Grant and I asked him if he wanted to join me in this journey. I must have been so bloody convincing that Maurizio and Stefano, which are like brothers to me, joined us almost immediately. And now we're here to stay.

You recently played in Luzern, with BITTER END, 50 LIONS and MELTDOWN. Did it go well ? Which impressions did you get from that experience ?
Cesare : We wanted to test ourselves on a stage with this new line-up and we were very curious to see if our music could still deliver a good impact…it took just the sound check to realize that we were still alive and kicking, ha, ha. We got along well with the other bands, BITTER END especially…they are great guys and they play really tough music.

Grant : I think it went really well and I'm sure the other guys in the band will agree with me. I was quite surprised by our performance which went a lot better than I imagined. It was very spontaneous on our behalf which is always cool. It was also good to play the new songs for the first time although a lot of the people there probably didn't even know our older songs. The main impression I got from that show was that we can still kick ass live and enjoy it in the process. The whole evening just enforced my motivation to continue and I look forward to doing other shows.

Knowing that REAL DEAL was mainly active in the early 90's, weren't you a bit afraid of facing a huge gap between you and most people who are a part of the current local scene ?
Grant : Absolutely not, we did and still joke about it a little every now and then but we are so much more convinced about ourselves that it hardly crosses our minds. Also you have to remember that although we were not active as a band all of us have continued to be involved in one way or another in the hardcore scene whether it be going to gigs or just listening to the music. It felt great to be there, it was like a homecoming!

Cesare : I don't think this is going to be a problem. At least, not for me.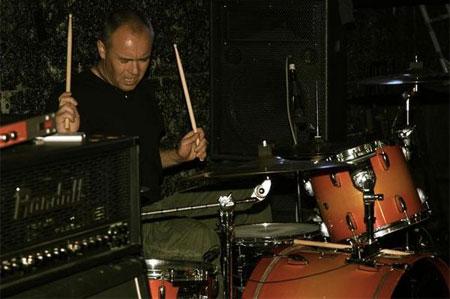 What do you do beside the band ?
Grant : Many things, I'm a husband and just recently have become a father to Joshua…then I have a full time job and when I do find a little time (very rarely…) I'll do something with music whether it be work on a production, something for my record label or something for the band. I have my own recording studio so I'll usually be down there.

Cesare : I work like everyone else in the band. We have lives that keep us busy and it's hard to find the time for practising, recording, playing. But this has always been a characteristic of the REAL DEAL, and we've got used to it. In my spare time I watch a lot of movies (especially Japanese and Korean) and I read political and social non-fiction.

I read somewhere that REAL DEAL was constantly compared to CRO-MAGS back then, and that this comparison tended to annoy you. Yet, it's quite flattering, isn't it?
Cesare : Musically speaking that's for sure! I adore CRO-MAGS (especially the first two records) and one of the greatest moments in my musical life was sharing the stage with them in Zürich. But excluding maybe a couple of our songs, I do not think that we have so much in common, not even at a musical level. We have just one guitar, we play no solos, an so on and on… And even if I approve their straight-in-your-face lyrical approach I did not share their Krishna-oriented dimension. To me religion is not a solution, never.

Grant : Yeah, that happened quite a lot especially in reviews and interviews but it was also nearly always positive stuff. I suppose I did get a little annoyed personally because I always regarded, and still do, REAL DEAL as having its own vibe, its own personality as a band and I'm quite proud of that. Cesare has his own, very unique voice and style of singing and I think this is one of the main things that sets us apart from the rest of the pack.

Grant, you're from the UK, aren't you ? Tell me, as I understood, the UK went through a bunch of tough years in the 70's and in the 80's, particularly due to a quite high rate of unemployment. I know, it's an old story, but I'm curious to know what it was like to grow up there back then. Do you think your interest for punk rock and hardcore would have been the same in another context ?
Grant : They were tough times and although things were hard, no jobs, no prospects of work, etc, it's thanks to punk rock and hardcore for saving many a teenager in the UK back then! I can't imagine what life would have been like if it were not for the music back in those days. It was the only thing I had going for me and it opened my eyes, enlarged my horizons and taught me more than any parent or educational institution has ever done. I used to live punk rock & hardcore night and day, together with many other likeminded kids. We used to share houses, squats and travel around the country, hitchhiking to gigs all over the place where we would find hundreds of other kids just like us, living in similar situations. We would make friends everywhere, stay at their houses, exchange addresses, exchange gigs then they would come to stay at our place, to see gigs in our city…it was a massive network of people with so many ideas being exchanged.

Still in the same register : it's often said that punk was an unsafe environment at the beginning, where there was a lot of violence, and some who were around in the early days seem to be proud of this fact. That said, I think it's important to make punk a safe and welcoming place as this scene is often considered to be a kind of shelter for a lot of people. Life can be dull these days…so why should we make it even duller in the name of a so called punk cred ? What do you think ? Do you know what I mean ?
Grant : Yeah, I know exactly what you mean…there will always be violence, that's just a fact of life. You have to know how to deal with it, by just walking away, by not getting directly involved because in the end it really is stupid. But, when it is directed at you for some reason or another it can be difficult not to get directly involved and you just might have to defend yourself…there are idiots everywhere and their numbers seem to me to be growing more and more everyday. In the early days the idiots dishing out the violence were usually imposters just looking for trouble like right wing skinheads or just rednecks who'd had a little too much to drink. One of the reasons which pushed me away from that early scene and then to move away from England was the violence, also the drugs. At one point in my life I didn't know anyone that wasn't taking drugs. Hard to believe, but true. Why someone who was around in the early days would be proud of the excess of violence that was going on baffles me, I just can't understand why. Those people just haven't learnt anything in life at all.

Cesare : Violence is all around us. I am talking about physical, psychological and social violence. It would be naïve to think that just being part of a "scene" can be some kind of shelter. When I was younger being a punk in Milano and listening to punk music meant being threatened and assaulted in the streets by people who did not have the faintest idea about what punk really was. Punk wasn't violent, after all. It was just a reflection of the nihilistic and desperate society we were living in. Nowadays punk is a joke, and some jerks are into hardcore just to show how much macho they could be. That's really funny. Ok, you're so strong and mean, you can beat the shit out of anyone in the moshpit. Why don't you step the next level, then? Take a trip to Afghanistan and make the world a better place stepping on a mine, you dumb asshole.

Let's talk a bit about your only LP ! Why did you choose the picture of a monkey for the cover of the record ? Is there a specific meaning behind this ?
Grant : Personally I can't quite remember where the idea came from but it might have come from Dario, who was our bassist at the time. I'm sure Cesare will remember though…I do recall that we were all agreeing on that choice though and were all enthusiastic about it. We liked the aggressive stance, expression that the mandrill was showing which was kind of the same thing we wanted to express in our music at the time. It's kinda funny because everybody remembers that cover.

Cesare : Oh yeah, the cover…we wanted something simple but effective, something that could represent our approach to music. Something alive and ferocious. The angry mandrill was perfect, we still love that cover and maybe we'll use the mandrill again, it's become our mascotte.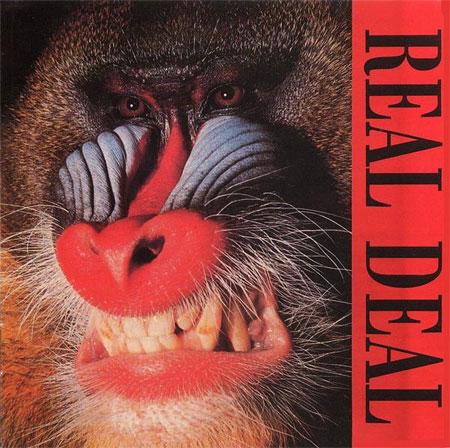 On that record, the lyrics seemed to be essentially centred on frustrations, which reminded me of other bands' lyrics. Did a band like BLACK FLAG (and especially someone like Henry Rollins) influence and encourage you somehow to approach such an intimate topic ? If not, what inspired you ?
Cesare : My own life inspires me. I do not have to look very far away to find a source of inspiration. The personal side of my lyrics obviously reflects my life, my approach to life. I have always been on the edge of becoming completely asocial, because I was driven by frustration and anger. Music just saved my life, really. I never searched to relieve my pain with drugs, music has always been my only drug. Feeling secluded from the world around myself, music became my only way to communicate. So in my lyrics it's my darker side who is at the wheel and screams to be heard, like it or not. Of course I like the claustrophobic and nihilistic approach to life that Henry Rollins displays in his books (I've read many of them) and his lyrics, but I think that everyone has his own personal view about life and his own history.

In the song « From Above », you seem to tackle religion in general. At the same time, the words used in this track are very crude and depict a very depressing vision of life. Can you expose your view on this topic ? Are you atheists, agnostics or anything else ?
Cesare : I am an atheist. I do not believe in God, and I respect religious people as long as they respect me. I do not understand them, but I can respect their choice as long as they don't try to mess with my own life. Religious people sometimes tend to preach, they want to teach you what's right or wrong. I know for myself what's wrong in this world without reading any fable book. Religion is nothing but a screen that can divert your sight from the REAL evil. Who cares about hell or about an after-life? Hell is already here, man. This is our only life and I do not want to spend it praying, that's for sure. I can have faith in the human being, sometimes I am still amazed from his capacity of doing good things, to respect and love each other. But at the same time I see lots of people engaging themselves in stealing and destroying our world, people that claim to be good christians, jews or muslims. Talking about influence of religion on man that is a bit depressing, don't you think?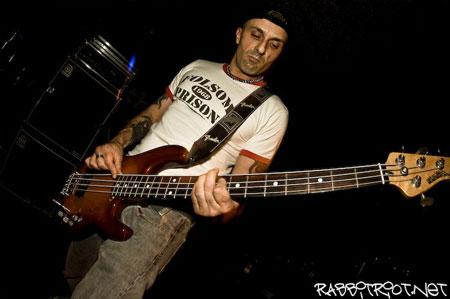 How would you define your lyrical approach nowadays ? Has it evolved or are the frustrations still as present as they were more than 15 years ago ?
Cesare : I think that my lyrics follow two distinct directions: one personal and the other more "political". Sometimes these two overlap, because this is what happens in real life. You cannot separate your existence and your feelings from what is happening around you, from society. In a certain way we're all products of this society, and this is something that all this bullshit around us tries to make us forget. We feel frustrated and obviously out of place in this crazy world ruled by criminals, but every day the consumerist aggression tries to obliterate your conscience. The next "oh so cool!" gadget will ensure you another week of blissful uncounsciousness, so why worry about this "friendly" fascism all around you? This kind of frustration is getting worse day by day, everyone should realize that we're on the brink of a global catastrophe but no one seems to care. I have decided long time ago to refuse to perpetuate the human species. No kids, no descendants, I won't breed another slave. By the way, the fucking capitalistic bastards are going to reap what they sow sooner than they can imagine. Many new songs are focused on this, like "Temple of dirt", "Hidden by blood" or "Bury your idols". But there are also more personal lyrics, like "Born hostile" or "Dead man talking". Maybe I have not evolved so much after all these years, after all.

What are your plans for the future ? I heard you were going to release a new record. Also, can we expect some RD shows for the next few months ?
Grant : We're definitely going to release a new record, we're actually writing the last couple of songs for it which we hope to record before the end of the year. In the meantime we're working on some recordings that we hope to release on 7" vinyl in December. This should be a split release with my own label, Pro Anti Records and Insurrection Records in England. As far as gigs go we're already trying to organise something for next year…hopefully we'll have our record out so that we can promote that.

Cesare : Yeah, we want to release a new record very soon. I think it will be titled "Born Hostile", and we have almost finished writing the new songs. I think we could record ten or eleven brand new songs plus a new version of "Worse things than you" and a cover. Maybe a HUSKER DU cover, I have always loved them.




What do you usually listen to today ? Are there any bands you'd like to recommend ?
Grant : COLISEUM, THE HOPE CONSPIRACY, HIGH ON FIRE, MODERN LIFE IS WAR, MASTODON... A band I'd like to recommend is CRASS…although they might not fit in with today's youth and styles their lyrics are definitely worth a read. Another great contemporary band I'd like to recommend is BLOODCLOT. John Joseph is still writing some eye opening lyrics and the music is as heavy as fuck.

Cesare : I listen to very different kinds of music, From Brazilian rap to electronica, really. Limiting to hardcore, in my MP3 reader at the moment you can find BLACKLISTED, BLOODCLOT, CONVERGE, THE HOPE CONSPIRACY, THESE ARMS ARE SNAKES and DIE KREUZEN. And I'd recommend DEADGUY and KISS IT GOODBYE, two enormous bands from the 90's

Can you give your top 5 records of all time ?
Grant : BAD BRAINS - Roir Sessions,
CRO-MAGS – Demo (Before The Quarrel),
ANTISECT – In Darkness There Is No Choice,
THE RUTS – Anything,
RUDIMENTARY PENI – Death Church

Cesare : Damn, this is the hardest question of all…it's impossible to answer…all I can say is that back in the 80's I went through a very dark period in my life and even music deserted me. I was depressed for personal reasons, I suffered from nervous breakdowns and stuff like that. One record saved my fucking life and gave me back the strength to start playing and fighting again: it was CRO-MAGS' "Age of Quarrel".

One last question : would you like to add anything else ? Any comments ?
Grant : Yeah, thanks to you Bastien for the interview. It's been a pleasure to answer your well thought out questions.

Cesare : I agree with Grant, thanks for this interview, it's one of the best we've ever done. And if someone is interested please contact us here: www.myspace.com/realdealhxc It's been a pleasure answering to your questions and we hope to meet you again at one of our gigs very soon.
Interview : Bastien
Plus d'infos :
Label : Autoproduction
MySpace : www.myspace.com/realdealhxc
Site Web : Pas de site
Site du label : Pas de site
Interview cliquée : 88472 fois
Interviews aléatoires :