Praise
Lire cette interview en FRANÇAIS

PRAISE is a hardcore punk band based in Baltimore, Maryland. After they put out two excellent 7inches, I wanted to know a bit more about the band. The singer, Andy, was kind enough to answer my few questions. Check it out!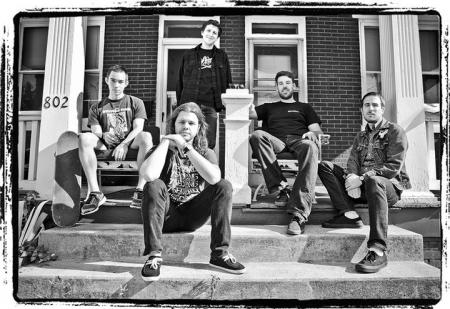 Hi Andy ! How are you ? Could you please introduce yourself and your band PRAISE in a few words ?
Hi Bastien. My name is Andy and I sing for the band PRAISE, Colby and Anthony play guitar, Chris plays bass, and Daniel plays drums. We are a hardcore punk band based out of Baltimore, Maryland.

According to the band biography on the React ! Records site, it took you about two years to complete the PRAISE line-up. How did you make it possible ? And did you ever feel like giving up ? Two years are pretty long, and I guess some patience was needed sometimes during this period of time.
Yeah, it did take awhile to get everything together but it was worth the wait. There was never any rush for it to happen so that had something to do with it taking so long, plus I was still in school and had other obligations I had to focus on. I wanted to create music with people I am close to so the wait made sense. That was much more important than getting random people to play instruments just so I could be in a band.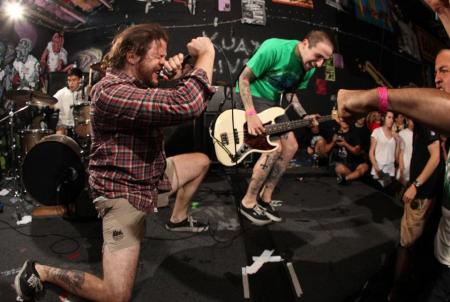 At the band's inception, what was the main motive, at least in your mind ? Were there some precepts that you wanted to be inherent to PRAISE?
I dont know if I had any motives. I wasn't going to go out and try to change the world or anything. I just wanted to create music and lyrics that were relatable. At the time we started, bands that I found myself relating to were breaking up and I didnt want to sit around complaining about the lack of bands with substance. I am not saying that there werent still bands with substance, or that I was going to make this drastic change through music. I felt like I had a lot to say and I wanted to use that as my outlet.

How things have been doing for the band since its first rehearsals ? Have you ever imagined to go this far ? Even though it's nothing special anymore that hardcore bands get to put out two or three releases nowadays, I believe that each « step » an individual or a collective of people make shouldn't be taken for granted, be it in the hardcore scene or in life in general. What do you think ? Sorry, that makes a lot of questions…
Things are a lot different than from when we first started. Mike quit in August of 2010 and we got Anthony to play guitar. He's been great, and a great friendship has grown out of it joining PRAISE. He has also been great with coming up with new ideas and songs. I can come up with an idea for a song and he makes it a thousand times better. This past summer a lot of us had cool stuff happen in our personal lives. Chris and myself both got teaching jobs and Colby is having a kid with his fiancée. We all have stuff outside of hardcore and punk that we are focusing on. I've said before that when PRAISE started I was just supposed to do a record, so every day that we write, practice and continue to move forward as a band is pretty special for me.

What do you do in life beside PRAISE? What makes your life meaningful?
The last few years I've really struggled to find what's meaningful in my life. Besides my friendships, family, and music, I never really had a lot of direction besides playing in bands. I went to school, and worked at a vegan restaurant for a long time but that was just so I'd have the flexibility to continue to play music. I kind of always had the hardcore « live it or leave it » attitude but just recently I started to think about what that meant. Did that mean going to shows every night of the week ? Buying all the latest records and checking out new bands ? Touring year round ? It's really easy to get caught up in that idea, but for me that's not what hardcore is anymore. Hardcore is still a meaningful part of my life but it's not the only thing anymore.
I've gotten sick of watching bands get on stage and talk about how fucked up things are but when they step down they're not doing anything about it. Nothing's going to change if we just keep talking about how much we hate society and how things need to change. Hardcore for me has become taking the ideas I learned from it and trying to make it a reality. This might come off as self-righteous, high and mighty, but that's not how it's supposed to be. In fact, I still have a long way to go. I am guilty of complaining but not making an attempt to actually change anything, which brings me to your question. At this point in my life hardcore is still meaningful to me but my current job at a school in Baltimore City, and my attempt to go graduate school for a masters in social work is what I am living for.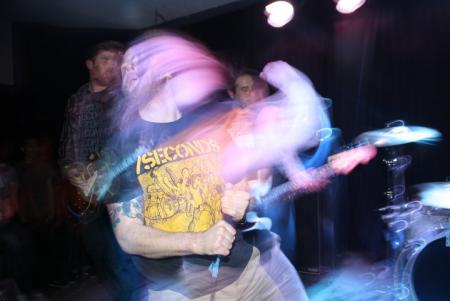 Is PRAISE a straight edge band ? As I understood, you're all straight edge, but it's not something you emphasise through lyrics. Would it be an issue to have a non-straight edge member ? I think straight edge is great unless it becomes exclusive.
PRAISE is a straight edge band in the sense that all of its members are straight edge. When PRAISE started I wanted to find 4 other people who were on the same page with me. Not only with living a substance free lifestyle, but cruelty free lifestyle, similar ideas, ideals and outlooks on life. I think it would be silly if someday I were to write lyrics on one of these topics and then have a member who didnt necessarily believe in the same things as me or hold the same values. At the same time I don't find it necessary to have PRAISE known as a straight edge band. I think there are a lot more important things to PRAISE and life than just straight edge. As far as having a member who isn't straight edge, it's crossed my mind having a member who isn't straight edge because I would rather be in a band with someone who is close and, someone I can get along with. I wouldn't want to get someone to play in PRAISE just because they were straight edge, I think that's lame. It just so happens that most of my friends who would want to play music with me are straight edge.

Are you into sports ? It seems there's always been some sort of incompatibility between hardcore punk and sports. It's hard for me to agree with this, cause to me doing sports and being actively involved in a music scene, such as the hardcore scene, are two ways to better yourself, somehow. And it's only one commonality I'm pointing out among others. So what are your views on this ?
It really depends on the sports. I hate professional sports like football and basketball but I fully support any individual who wants to live an active lifestyle to better themselves and take care of their bodies. I never got much enjoyment out of playing sports. The only things I did that might fall into that category would be BMX or skateboarding.

The latest 7inch is called « Two Songs » and recently came out on React ! Jason Mazzola of CLOAK/DAGGER and COUNT ME OUT did the artwork, which I think is really well done. I like its simplicity. So, to describe it briefly for those who haven't seen the front cover, a picture of a cloudy sky can be seen, but with a feather on the foreground. What do these two elements symbolise ? And who came up with the artwork idea ? Jason or the band ?
There isn't really any significance to the feather or the cloudy sky. I am a big fan of native American culture and that was an image in the book. We edited the image a little and that's what we came up with. For this single we wanted to go with a more simplistic vibe à la Dischord/Factory Records but still have it consistent with the « growing.changing.healing. » EP. We kept the feather but took out the dreamcatcher. Jason had done a shirt for us awhile back, so I proposed to him the idea of doing the layout and he was happy to do it. He knows what I am into and how we want to represent the band artistically so he was able to do it with ease. I couldn't be happier with how this single turned out!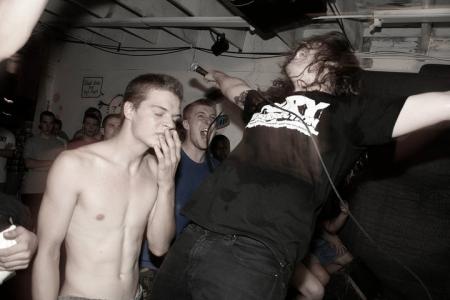 You seem to be the biggest 7 SECONDS fans on Earth ! Which aspects of this band do/did you like the most ? What made you become such big fans basically ?
I think I heard « The Crew » for the first time when I was 15 or 16. A friend of mine handed me « The Crew » and « Screaming For Change » by UNIFORM CHOICE and said « get these, you wont be disappointed ». Needless to say both of those records changed my life. As I got older I think that the lyrics on « The Crew », « Walk Together, Rock Together » and « New Wind » just resonated with me and I continued to have the outlook on life that I learned from those records.
In 2005 I got the opportunity to do a 10 day tour with 7 SECONDS. It was without a doubt the most special tour I have ever been a part of. Leading up to it I was super excited but at the same time weary of how it would be. I held the guys in 7 SECONDS on a pedestal, even though that's not what hardcore and punk is about, sometimes it just happens. This band changed my life and I was worried that meeting them might change the way I viewed those records. It didn't though, the guys in 7 SECONDS are some of the most legit dudes I have ever met. I can honestly say that everything Kevin Seconds said 30 years ago, he still means today.
I think the thing that has always drawn me to 7 SECONDS is that they are/were a punk band but didn't always do what was traditional or expected for punk bands to do, whether it's aesthetically, lyrically, or musically. But whatever they did, it was still hardcore punk.

I noticed that you don't have a Myspace page for PRAISE. Why ?
No real reason. We have a Facebook page so I don't think it's necessary to have anything else these days.


Considering you played in CHAMPION, a band that was from Seattle, and that you're now in PRAISE, which is based in Baltimore, is there a place you can call your home ? How is it for you to deal with the distance that separates you from friends or relatives, basically people you're close to sentimentally, but far from physically ? Can moving from one coast to another be a part of the healing process you specifically talk about in the song « Healing » ? I hope you don't mind tackling such personal topics…
I grew up in a suburb called Columbia in Maryland. It is literally right between Washington DC and Baltimore. That was my official residence until last spring when I moved to Baltimore city for my job. I never actually lived in Seattle. I would stay on couches and floors for a few weeks at a time but never officially moved out there. It was cheaper to fly out around tours and practice than to actually move, so we just did that while I was in the band.
Distance and separation is hard and was something I have always struggled with. I am very close with my family so when the opportunity to tour came up, I knew that not seeing them every day would be hard but at the same time I knew it was the right thing to do. Things at home were really tough around the time that CHAMPION asked me to play bass for them. I didn't have much direction, there were family issues, and I just wasn't in a very great place. I felt like leaving to tour for an unknown amount of time might not have been the best thing to do when things at home with my family were hard, but my loved ones convinced me that touring and playing music was something that I needed to do. They weren't going anywhere and they would be there when it was all over.
As much as I loved touring and being at shows every night with my friends, people aren't lying when they say it wears on you. Not just financially but mentally and emotionally. When you first start touring for copious amounts of time you kind of go into this standstill and it doesn't feel like anything is changing besides the town or the tour. Then you get home and your friends have graduated college, are getting married, having kids, or starting careers. At the time I was touring none of those things were things that I wanted, and even if I did want a girlfriend or a steady job to come home to, it wouldn't have been there when I got home from tour.
After all of that touring some of my closest friends seemed so far away and to this day I have not been able to repair some of them. Time and distance do change people BUT through touring and playing music I have gained some of my closest friends. Some of them live on the other side of the country but when I see them, sometimes after years, it's like nothing has ever changed.

Speaking of CHAMPION, what are the fondest memories from your time in the band ? I'm sure there are too many ! But looking back, what did you learn from your experience in CHAMPION ?
Being a part of CHAMPION was one of the most important times of my life and even trying to begin to talk about what I learned or experience would be quite the task. I think that rather than focusing on one separate event, I think the fondest memory was that for almost 2 years I was lucky enough to travel the world with some of my closest friends.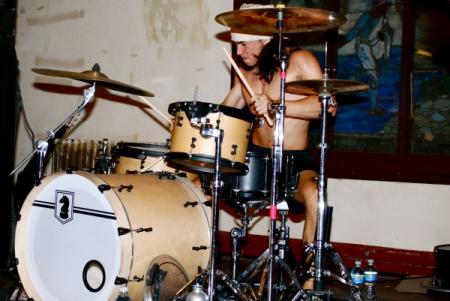 I've heard you're gonna put out your first LP with PRAISE. Can you tell me a little about it ? Will it differ a lot from the 7inches ?
We are in the process of writing an LP right now. We are about 5 songs in. Our goal is to record around twelve songs this spring. It's always been a major goal of mine to write and be part of a full length record. Hopefully it's out late 2012 but I don't want to rush it if it's not ready. I think however it turns out it will be a natural progression from the two singles.

What are your favorite current hardcore bands ? Which ones would you recommend to check out ?
Some bands I've really been digging lately besides the obvious of SACRED LOVE, MINDSET and IN BETWEEN would be REARRANGED, NO TOLERANCE, FACE REALITY and TITLE FIGHT. The GYPSY LP is great so keep an eye out for that too!

Can you list the five best records you've listened to in your life and leave a short comment for each record ?
MINOR THREAT - « Complete Discography »
When I was twelve my brother and I put our money together to buy the « Complete Discography » CD. Needless to say the lyrics to « Out of Step », « Filler » and so forth resonated with me throughout my adolescence and still do to this day. The feeling I get when I put on that record has stayed the same throught all of these years.

7 SECONDS - « New Wind »
« The Crew » and « Walk Together Rock Together » were life changing records for me, and still inspire me to this day. That being said « New Wind » is my favorite 7 SECONDS record. The lyrics to that are basically what I felt for so many years and could never express. Every time I hear or read the lyrics to « The Inside », « Man Enough to Care », « Still Believe » I get goosebumps. The connection I feel to that record is hard to match.

GORILLA BISCUITS - « Start Today »
Walter is a great song writer and lyricist. « Cats and Dogs » opened my mind up to vegetarianism.

EMBRACE - s/t
Just like the last three records listed, the lyrics. Perfection.

JOY DIVISION - « Unknown Pleasures »
It's really hard to narrow my favorite records down to five. Rather than list five hardcore records I decided to throw in « Unknown Pleasures ». Total mood record but definitely a favorite. The bass lines are great, atmospheric feeling. Love it.

This is the end of the interview ! Thanks for your time ! Anything to add ?
Thanks so much for the interest in PRAISE. Sorry it took me so long to get you the finished product! Listen to MINDSET, SACRED LOVE and IN BETWEEN!
Peace & Solidarity,
Andy/PRAISE
Interview : Bastien
Plus d'infos :
Label : React! Records
MySpace : Pas de Myspace
Site Web : searchforthesun.blogspot.com
Site du label: www.itstimetoreact.com
Interview cliquée : 13366 fois
Interviews aléatoires :