Unveil
Lire cette interview en FRANÇAIS

Currently, there's a bunch of great bands in Switzerland that are constantly rising and sharpening their skills. UNVEIL is one these few bands and it was about time for me to do an interview with them. It's Johann, the guitar player, who kindly took the time to answer my questions, exposing his views on topics as varied as veganism, power and the Simpsons ! Enjoy your reading !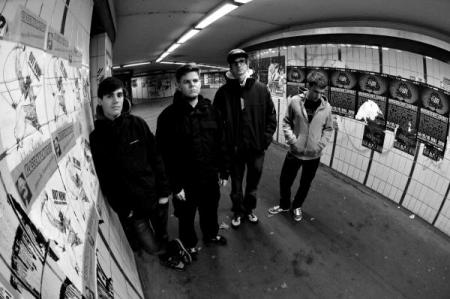 Hi guys ! Can you please introduce your band and tell me why you do what you do ?
Bonjour! I'm Johann and I play the guitar in UNVEIL. We're a hardcore band from the eastern part of Switzerland. We have all been friends forever and we just decided to play the music we love. We are a band with a clear message, because that's what hardcore means to us.

Your latest release is a 7inch called « Hypnopaedia ». What does it mean ?
Yeah, Christian came up with the idea. "Hypnopaedia" comes from the book "Brave New World" and is some kind of brainwashing system which eliminates all kinds of personal allegiances to keep you satisfied with the system. All of us liked the idea very much, so that's why we called it that way. There is also a small description in the booklet of the 7".

Where did you record this couple of songs ?
There is a new studio pretty close to where we live. We went to record one song first, to see if it would work out and well, we liked the result. So we recorded the whole 7" there and we are very happy with the result. We will probably go there again for the next release. BEGGARS & GENTRY recorded their new LP there by the way.

What are the new songs about ?
The lyrics are all written by our singer Christian. They're all pretty clear. The songs talk about how humanity's way of living destroys the planet, about putting yourself above others because of your nationality and about making your way through life. I'm sure our singer could tell you more about his lyrics than me though.




What else have you released so far ?
We released a 3 song demo, a 4 song 7" called "Destruction Wherever I Go" and the new 4 song 7" called "Hypnopaedia".


What do you do for a living and what are your other interests in life, beside music ?
Well some of us are working, others are studying. Some do lots of sport, others prefer to chill. We visit a lot of concerts and also see each other pretty much in our free time. But music is a very big part of our lives, that's for sure.

UNVEIL has been seriously taking off lately, which is pretty awesome and uncommon for such a young and new band I think. Can you explain your sudden success ? How do you manage to bring the band on such heights, I'd say ?
Haha, I wouldn't know how to explain that. In the beginning of 2009 we released our demo as a free download and we got a lot of good feedbacks. We had the opportunity to play a lot of shows in Switzerland and soon we could join other bands for 2 small tours. All of us played in some shitty bands before and nobody ever cared about us, so yeah we were quiet surprised. I guess we were lucky. People seem to like our influences and maybe they also felt the lack of bands with clear statements, just like we did.

What do you think of power ? Good or bad ? Do you think it's something that humans naturally abuse once they get some ?
Hm…power usually comes with oppression, which makes it a bad thing. It could be used for good, but history has shown many times that humanity can't handle the power and starts abusing it. It's hard to say if it's natural, I'd say that humans are egoists, which leads to this.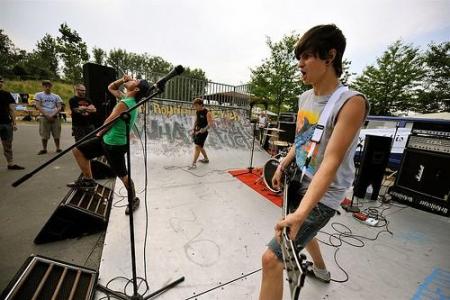 None of you eat meat and you're really outspoken on animal rights. Why do you think it's important to be outspoken on this topic ?
I believe being outspoken on this topic is the only way to make people think about changing their point of view, as on every other topic too. Things like prohibition or forcing your ideas on others just separates you more from it. Each one of us used to eat meat as children and we got to vegetarianism and veganism thanks to people and bands who were outspoken on this.

One more question related to vegetarianism. You come from a small town, Buchs, and when I came to visit you, I remember you told me there were a lot of vegetarian people there. How do you explain this phenomenon ? Is it because of the omnipresence of nature all around your town or is there a guru hidden in the mountains teaching the virtues of vegetarianism ?
Haha, unfortunately no guru! Yeah it's true, there are some vegetarian people. I guess that it's the same answer as on the question above. It's all about discussing each other's views. Don't tell people what to do, they have to think about it for themselves. Eating meat is quiet stupid, most people would admit it after thinking about it. It's up to them if they want to be part of it or not.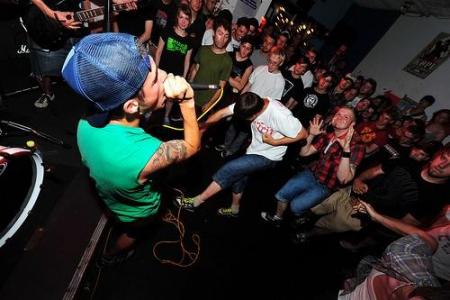 Besides being all veg(etari)an, the band also embraces the straight edge. I'm myself both veggie and straight edge, but somehow I've always been a little distrustful towards militant vegan edge bands, because most of the time I have the feeling they either take themselves too seriously or they choose unefficient methods to promote this lifestyle, by shoving their beliefs down people's throats for instance. I've known you personally for a while now and I have to say that your general attitude doesn't stick to the exaggerated seriousness most bands that have a similar profile as yours actually have. In other words, I think you're really easy going and funny people ! So my questions are, do you think there's a place for humor within hardcore and does your sense of humor help you in some ways to get people's attention on what you have to say as a band ?
I feel the same about many Vegan Straight Edge bands as you do. This militant thing, sympathy for guns and violence, all that shit has nothing to do with the ideals of VSE. First of all, we're just normal guys and we don't take ourselves too seriously. Vegan straight edge is not the center point of our lives, it's just a part of it. It's a good thing, but years brought a lot of bad clichés to it so we represent the vegan straight edge like we feel it in our hearts.
In my opinion, humour can be useful to get people's attention. I would think more about the point of view of a person which appears likeable to me than to someone who seems to be narrow-minded or aggressive or whatever. I hope you get what I mean.

What are your plans for the future, first as a band and then as individuals ?
Well as a band we will release the new 7" as a MCD and in January 11 we will go on a small Europe tour. And we are writing new songs for our LP. As individuals, some just started to study or moved out. We will not be any longer all 4 living in Grabs, but we hope that this won't affect the band any negative.

Have you ever been afraid of suddenly having a total lack of inspiration musicwise or lyricwise and therefore feeling forced to split up, against your own will, so to say ?
Lyricwise I have no clue, Christian would have to handle that, haha. But musicwise we have had plenty of months already without any good idea or anything. There's nothing you can do about it. You just keep doing it and one day you have your inspiration back. I don't think we would ever split up because of that, it's just about taking your time.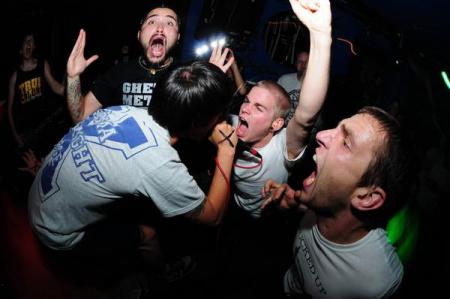 If you were a character of the Simpsons, which one would you be and why ?
Probably the Bumblebee Man. I'm a huge fan of that one. And if I was a TV-star, I would also wear a bumblebee costume.

Here's the final and classical question : can you list the five best records you've listened to in your life ?
In my life? That's hard.. Here we go:
BLINK 182 – Enema Of The State/Dude Ranch/Buddha (too hard to choose one..)
UNBROKEN – life.love.regret
REFUSED – Songs To Fan The Flame of Discontent
AFI – The Art Of Drowning
LIFETIME – Jersey's Best Dancers

Anything to add ? Thanks for your time and keep up the good work with the band ! Tschüss !
Thank you very much for the interview Bastien. Check out our Myspace on www.myspace.com/xunveilx. And mosh hard with KEEP IT BACK!
Interview : Bastien
Plus d'infos :
Label : Take It Back Records et Start a Fire Records
MySpace : www.myspace.com/xunveilx
Site Web : Pas de site
Site du label: www.disarmare.com et www.myspace.com/startafirerecords et www.myspace.com/takeitbackrec
Interview cliquée : 10017 fois
Chroniques du même artiste :
Live Reports du même artiste :

Understage Festival 2009
Teamkiller, More Than Ever, Car Drive Anthem, Deadverse, Come Closer, Unveil, Turning Cold
Date : 16.05.09
Lieu : Piccadilly - Brugg (AG)
Interviews aléatoires :