Napalm Death
Lire cette interview en FRANÇAIS

I'm thrilled to have had the chance to spend some time with an outstanding artist/musician and a remarkable person: Mark "Barney" Greenway of Napalm Death, prior to the band's show in Thessaloniki, Greece, on September 30, 2010. You'll find this interview very inspiring and interesting, since among others we discussed on Napalm Death's history and future plans, but also on music in general and on the several economic difficulties that most countries are currently facing….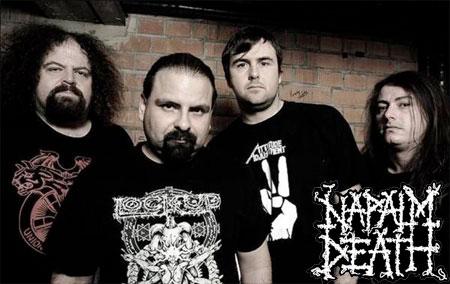 Hello Barney.
Hello, nice to meet you.
I know this is not your first time in Greece…
No. It's the fourth actually.
So, you know about the Greek fans and all… You've seen them before.
Yeah.
What do you have to say about them?
You know, this is a difficult question to answer, because I never see individual people at different countries. I mean that people that come to gigs are all the same; they aren't actually different, so it's hard for me to say that "this country was great, because the fans were amazing". It's the same everywhere… It's all good. We make the most of it and that the important part.
But four times to me means that the people love you!
Yeah! Definitely! You know…We would come more if we could, but there are some places you can't go that often, because otherwise it's too much and you can't overplay.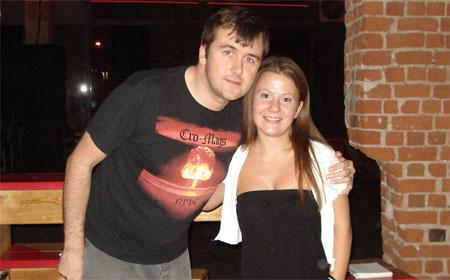 Barney and Irene (Picture taken by UncleJack Spiller)


I've noticed that there are a few other bands that try to make their music more accessible, but Napalm Death don't. You do your thing, you do what you like either on stage or in the studio and if people like it…
At the end of the day, Napalm in the early days were in a group of bands that were quite noticeable for a certain thing. We were influenced by bands before us, but we were still quite unique. So, my attitude to things is "why transform yourself into something that's enforced, since you're not doing yourself any good?" I have no desire to change to be more accessible… What's success? Five minutes and then gone… I'm not interested in that.
And if you change then you'll be pretending and people will know…
Well, exactly. If we do what we feel is right then we know that we've tried our best.

I know you like to read.
Yeah! I like to read.
I'm not going to ask you about the book…
Yeah! (laughing)
I would just like to know if what you read affects your contribution to the Napalm Death music.
Yeah! I mean, when I write lyrics I don't want to directly copy other people, but yes, of course. What you read definitely influences you subconsciously. You might read a book and think that passage was written really well and then subconsciously store it… Not on purpose necessarily, but subconsciously.
And even more I guess if you agree with what you're reading at that time.
Exactly! I've always tried to write for myself and what I thought was the right thing. I don't like to copy other people, because that's what writing is all about: freedom.

You said before that in the early days of Napalm Death, what the band did was unique… I've noticed that music and bands are changing nowadays. They're mutating…
Some bands…
Yeah! Not everybody… For example in Greece we have a zillion bands that play more or less the same thing and only a few really stand out. Do you think that this benefits music or not?
Music has got room for everything… At the end of the day this is what I think. When a band starts out it should do what it thinks is right for itself and it doesn't matter what that is. I mean if you want to go out and do something that's completely original, which is very difficult actually, then ok! If you want to just play a style, which is what bands actually do these days, then that's ok too! I try not to be critical; because every band does what they think is right for them. It's not a matter of my personal judgment; it's really up to them. But from a taste point of view, yes; it's good to have for example bands that capture an old style really well. But then again it's also good to hear a band that pushes the boundaries a little bit, but this is a hard thing to do. Music should be a natural thing! You hear it and it does something to you or it doesn't. It might take a few listens to get that, but that's the point. It should be either an instant or a gradual thing and you either like some stuff or you don't like some stuff. I mean, all music is subjective anyway! It's like I may love another person completely or not like at all…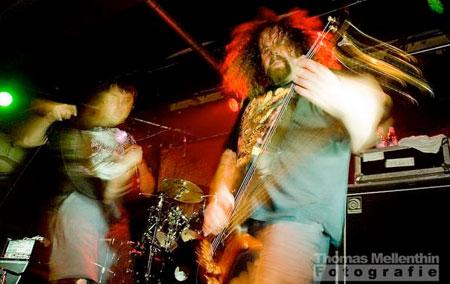 In Greece you know we're going through some difficult times, in economic terms…
Yeah! Everybody does…
Exactly! More or less this is the case anywhere else as well. How do you think that this has affected you and Napalm Death?
As an individual I try not to let things like that get to me! Of course sometimes the circumstances dictate how your life goes, but I try not to freak out about it. The way it's affected the band is that we try not to go back to certain places as often, because people just don't have the money. Also, we have to make sure that we don't play two gigs too close and something that we always did, but seems more important now, is that we always try to keep the T-shirts that we sell cheap.
Yes, they're really efficient; cost efficient I mean.
Yeah! But we've always done that; not necessarily now… Napalm have always been about fairness, you know… So, that's what we try to do. It's always been the same for us.

Ok. Now, this is a question that will urge you to think back a little bit… In the early Napalm Death days, when you were younger and you were trying to be successful at what you were doing…
Now that's a key point, 'cause we were never trying to be successful… We just did what we felt was right and if success came from it then fine. But we never tried to for example get more people at the gigs or make a plan to do that… We did what we liked and if people liked it then we would deal with it, but we never tried or specifically said: "We want to be successful!"

Would you say that you would give that as a piece of advice for young bands?
First and foremost! If you want your band to be good and make an impression on people, you have to think about the music first. You do what you do, what makes you happy! You can't think about success, because if you get too obsessed about success then your band can never be any good. That's a good lesson to learn…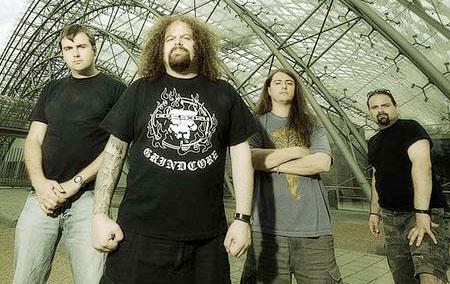 Back then, did you expect things to turn out the way they did?
No! Absolutely not! I never expected Napalm Death back in 1989 to last for more than two or three years and now I see that we're still here… You can never predict anything! You just do what you think is right and as we said, if success comes out of it, then you deal with it, but if it doesn't, then you can at least say that you tried…

This is my last question…
Ok then.
So, here it goes: It's been almost a year since the release of "Time Waits for No Slave". I would like to know, if you can tell me of course, if you're currently working on anything new?
We haven't actually started yet, but we're going to start next year. We're going to record in May next year, so the release will be around September of next year. We've been talking about that recently and that's why I can't tell you more… I have no idea what it's going to be yet or what the title will be, but we're talking about it now…

It's good to know that you'll start working on something new soon… So, I guess that's all. Thank you very much Barney.
No problem. Thank you!
Interview : Irene
Plus d'infos :
Label : Century Media Records
MySpace : www.myspace.com/napalmdeath
Site Web : www.napalmdeath.org
Site du label: www.centurymedia.com
Interview cliquée : 19111 fois
Chroniques du même artiste :
Live Reports du même artiste :

Neurotic Deathfest 2010
Carcass, Bolt Thrower, Napalm Death, Immolation, Pestilence, etc, etc
Date : 01.05.10
Lieu : O13 - Tilburg (Hollande)
Interviews aléatoires :