Have Heart
Ritual
10.01.07 / Kofmehl - Soleure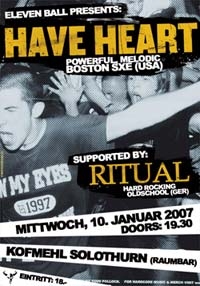 Début des hostilités vers les 21h avec Ritual, groupe de old school hardcore Allemand.
Dés les premières chansons on ressent direct des influences tels que American Nightmare ou The Hope Conspiracy, leur show est très intense, les musiciens bougent bien et se font plaisir, malheureusement leur set sera assez linéaire et pas super original a mon goût.

Arrive sur scène le groupe de Boston Have Heart.
Direct les kids se pressent au devant de la scène, le show débute et presque instantanément, le pit commence a s'échauffer, ça danse et ça chante de tous les côtés, je sens quand même le groupe un peu fatigué au fûr et a mesure des chansons et en effet après quelques minutes, le groupe fait une petite pause et le chanteur nous fait un speech comme quoi ils ont eu en ce 10 janvier le jour le plus difficile de leur tournée, malheureusement pas plus de précisions à ce sujet...
Le set peut reprendre, les chansons s'enchaînent très rapidement, pas de doute c'est bel et bien un pur set de old school !
Arrive le titre mythique « The Machinist » là tout les kids présents se défoulent et chantent en cœur dans le micro de Partick Flynn le chanteur.

Après même pas 30-35 minutes, est déjà venu le temps de la dernière song, on aura heureusement droit a un petit rappel pour une toute dernière compo qui ne durera pas plus de quelques minutes…

Un très bon concert, même si je m'attendais quand même a en voir un peu plus de la part de Have Heart, mais leur show était quand même de très bonne qualité bien qu'un peu court.

Un grand merci a la Kofmehl de Soleure pour ce sympathique concert !
Live Report : Lucien
Ajouté le : 22.04.08
Live Report cliqué : 1249 fois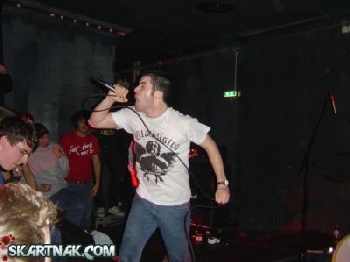 Chroniques similaires :
Live Reports des mĂŞmes artistes :