Bad Religion
Broadway Killers, Hateful Monday
24.06.14 / Les Docks - Lausanne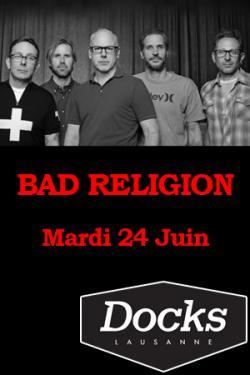 On commence la soirée avec Hateful Monday, la salle n'est pas encore très remplie mais ceux qui sont là ont l'air contents d'être arrivés à l'heure pour voir les Genevois. Beaucoup de têtes connues dans le public, ça fait plaisir de voir que tout le monde s'est déplacé pour nos bons vieux Bad Religion. Pour ce concert, Hateful Monday était composé de 3 personnes, Seb, Igor et Charly. Je ne sais pas si c'est définitif ou non mais le concert en était certainement pas moins bien. Si on connaît bien les titres, on se rend compte de l'absence d'une deuxième guitare, mais ça n'a rien enlevé à l'efficacité et l'énergie de leur musique. C'était donc très sympa d'avoir pu les voir en première partie ce soir là , on aurait pas pu trouver de groupe local plus adapté pour le faire.


Suite de la soirée avec les dannois de Broadway Killers, le nouveau groupe préféré de Jay Bentley. Ils nous ont servi du rock agrémenté de touches punk-rock (pas assez à mon goût!). Ils avaient l'air contents d'être là et ont bien captivé l'attention du public. Les musiciens avaient l'air bien en place mais je n'ai pas été très convaincue par leur style un peu trop propre finalement malgré leur tentative d'être un peu agressif et punk-rock.

A 22h30, Greg, Jay, Brian, Brooks et leur nouveau guitariste, Mike arrivent enfin sur scène. La salle est pleine et le public est chaud. Je n'ai jamais été une grande fan de Bad Religion. Je les ai tout de même vu pas mal de fois en live et ai toujours apprécié leur performance. Mais ce soir là était de loin ma préférée. Je ne sais pas si c'est la taille de la salle, plus petite que les autres fois, qui a provoqué cela, mais en tout cas j'ai été bluffée par ces musiciens.
Ces gars font du punk-rock depuis plus de 30 ans, on fait je ne sais combien de tournée, enregistré seize albums, on pourrait dire qu'ils ont de quoi se la péter. Mais non, ils arrivent sur scène, hyper souriants comme s'ils allaient jouer devant leurs potes un samedi soir dans un bar pourri. Durant le concert, on a vraiment pas le temps de s'ennuyer, ils enchaînent titres efficaces sur tubes sur titres efficaces sur blagues.
Niveau musique, il y en a eu pour les fans de toutes les générations, avec un extrait de pratiquement chaque album, soit plus de 30 morceaux pour ce concert. Dans la salle tout le monde était très réceptif, beaucoup de gens chantaient, et l'ambiance n'a fait que monter jusqu'à la fin du concert. Que demander de plus?


Au niveau de la répartirion par album, ça a donné : True North (Fuck You, Dharma and the Bomb, True North, Dept. of False Hope), The New America (New America), Stranger Than Fiction (Stranger Than Fiction, 21st Century Digital Boy, Infected), Recipe for Hate (Recipe for Hate, Skyscraper, Struck a Nerve, American Jesus), No Control (No Control, I Want to Conquer the World, You), The Process of Belief (Supersonic, Prove It, Can't Stop It, Sorrow), The Empire Strikes First (Overture, Sinister Rouge), New Maps of Hell (Dearly Beloved), The Gray Race (Come Join Us, Punk Rock Song), Generator (Atomic Garden, Generator), Suffer (1000 More Fools, How Much Is Enough?, Best for You, Do What You Want) et How Could Hell Be Any Worse? (Fuck Armageddon... This Is Hell).



Live Report : Sandra
Ajouté le : 30.06.14
Live Report cliqué : 1985 fois
Chroniques similaires :
Interviews similaires :
Live Reports des mĂŞmes artistes :

Strung Out
Versus The World, The Rebel Assholes, Hateful Monday, The Grizzlies
Date : 15.07.15
Lieu : L'Usine - Genève

Open Air Gränichen
Bad Religion, Strung Out, Misconduct, Death Before Dishonor,...
Date : 11.08.11
Lieu : Open Air - Gränichen

Pimp My Band Vol. 2
Hateful Monday, Drama, Falling Down, Swing In Class Hero,Crappy Stuff, Playmates on the Run
Date : 19.12.08
Lieu : Usine - Genève