Skumdum
Lire cette interview en FRANÇAIS

E-mail interview done on 24.02.2009 with Pierre, bassist-singer of Skumdum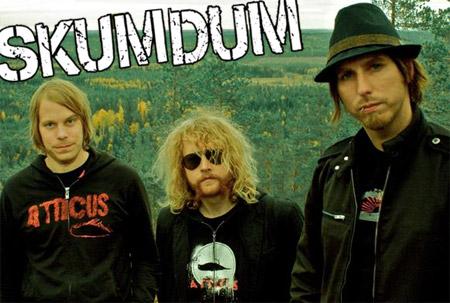 So... Hur mår du ? (Waz up ?)
I'm doing just fine! The first two weeks of the new year was a little worse since I lay in bed with the flu! Now I'm back on track and ready for another great year!

You just released a split with an american band called Hero Of Our Time, how did you get in touch with them ? Can you tell us a little more about this split ?
Me and Danny, the singer in HooT, have been talking on internet for many years now and Danny helped us out with our english biography a couple of years ago. Then we started talking about joining forces and releasing a split cd together. We figured it would be a good way for us to get some more listeners in the states and the same for HooT here in Scandinavia and Europe! It's been released in Scandinavia, spain and Japan now and in 2009 it will be out in the U.S aswell.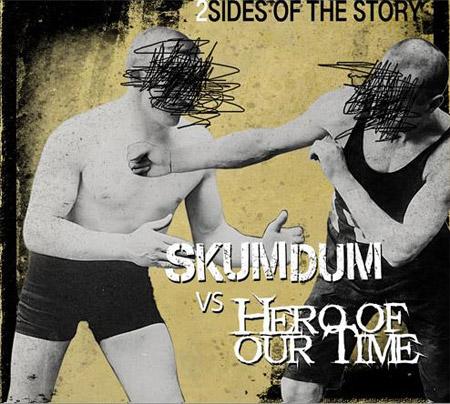 There's some new influences in the split, like the mandolin or the song in spanish, is it the result of your trip to mainland or just a thing you wanted to do ?
At first we had an idea that we would use accordion aswell on the split. Unfortunately there wasn't enough time to pull this off. The guy who plays mandolin is an old friend and I just got this crazy idea that it would be cool to use him on some of the tracks. I think the result is amazing! The spanish song is actually the second we have released. We have a song called El Perro de la Muerte on Skum of the land aswell. I don't know why I wrote another song in Spanish...I got the idea to the song when we travelled in Mexico back in 2006...And I lived in Barcelona back in 2001 so that's where I learnt the spanish. I think it's liberating to write in another language and use new instruments to show people that we still have some surprises left, haha.

The split is your second release in english, and I think I can talk for everyone outside Sweden, I've been really excited to discover this new Skumdum. How did it happen ? Was it hard to leave the swedish-singing Skumdum behind you ?
Thanks a lot! Uhh that's a good question. It all started back in 2002 after we had released "Det vi kan bäst" and signed with a new label. The guy who ran the label was also the producer on Skum of the land and he simply asked us if we had thought about trying to write some songs in english. I had translated some of the songs from Det vi kan bäst and we recorded them with english lyrics. That was the turning point for me...I sat there listening to the songs and asked myself: Why the hell haven't we written songs in english before? Chris, Pat and Linkan agreed and we decided to write our new album in english. To me it was a natural and necessary development. It felt like we had done everything that we could do with Skumdum in swedish. Even if it's just in my head it also felt like changing to english gave us the chance to broaden our music and experiment more with other genres.

Are you gonna still write and record albums in english in the future ? I saw that you're gonna re-release old stuff, can we hope about an english edition ?
Yeah we have no plans on going back to swedish again. I have a project with some friends called Lastkaj 14 and I take all my swedish lyrics to that band nowadays. That way we can focus on Skumdum being an english singing band, haha. Yeah we're gonna re-release our swedish albums in Japan. It's still gonna be in Swedish though but it will contain more songs than the original releases.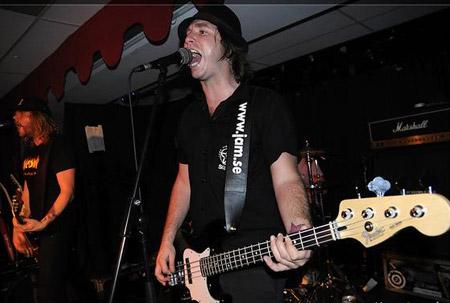 The swedish scene has influencend an huge part of today's punk-rock bands (like Hero Of Our Time of course), now that most of the biggest bands are dead or nearly dead (Satanic Surfers, Adhesive, Pridebowl, Millencolin), you are one of the the oldest band which still alive after all these years, how does it feels ? What keeps you guys going ? What do you think about what we can call now the golden age of swedish punk-rock ?
It feels great!!! Me and Chris started Skumdum when we were 14yr old and I don't think back then that we ever thought we would be mentioned in the same sentence as Satanic Surfers, Adhesive and Millencolin! For us it was just a way of killing time and having a laugh while doing it! Even though we have released records since -95 it wasn't until 2002 that we started touring regularly. Of course we played shows but it was mainly in the northern parts of sweden...I once said that you will either grow away from punkrock or you will grow into it! I guess it's pretty obvious how it became for us. I love punkrock and the scene and everything about it...That's basically my drive + the fact that I get to play with 2 of my best friends, tour different places, meet interesting people and experience more than most people ever will! I agree that Sweden had an amazing scene back in the nineties and I don't know if anyone can explain how so many awesome bands emerged at the same time. To me and everyone else it was obvious that we had a great punk/hardcore scene in Sweden. It was natural to me that there were punkconcerts every week and now I only wish that the kids of today could see how it once was. I don't think they understand that they are the scene and that their presence on concerts and shows are what makes it possible for bands like us to continue tour and play live...

Are you already working on a new album ? If yes, can you tell us some things about it ?
Yeah we have started writing songs for the next album. We actually have recorded more than 15 demo songs to it already! What I can say about the material is that they it's more varied than our previous releases. We have mixed pretty much with folkmusic, latinorhytms and classic skatepunk! It still sounds Skumdum though so people don't have to get worked up!

Skumdum is now a trio, was it hard to adapt to this line-up ? Who's The guy who plays the mandolin?
To be honest it was easier than we thought adapting the old songs to the trio line-up. The first reaction when Linkan left the band was that we needed a second guitarist asap. But after a couple of weeks rehearsing as a trio we felt that it worked so well that we had to try and do some live shows to see if it would work on stage aswell. We recorded the first shows and I'm well pleased with the sound. It wasn't as "empty" as I feared + it's easier to get a really good sound with less instruments involved! It's a lot easier to plan tours, practice and write songs as a trio aswell! The guy on mandolin is an old friend that happened to be on the right place at the right time, haha.

You played a few shows with the Uncommonmenfrommars in France and Spain, how was it ? Can you say something in french for our readers ?
The tour was awesome and Umfm is a great band to tour with! They're excellent musicians and even greater persons! All the shows were really good and we noticed that France is a whole different country to tour in when you're playing with a famous band! Spain was as usual the bomb and I only wish we had done more gigs than we did. It's an experience to share space in a van with 5 totally unknown persons that you've never seen before. With Umfm it worked out from start and after 1 day on the road it felt like we had been on tour with them for longer than we had, haha. We didn't pick up any french frases though. It's a difficult language to learn, hehe.

I think you never played in Switzerland, why's that ? Everybody think (mostly american to be honest) that Sweden and Switzerland are the same country, we should know each other more ! (our webzine name is based on a subway stop in Stockholm, called Skärpnack, yes that's true !)
Haha no we've never played Switzerland unfortunately. I don't know I don't really know why but it could be that we haven't had the right connections until now (blink blink). Hopefully we'll include Switzerland on the next tour!

How would you describe Switzerland ? Even if you never came, just tell us something connected with us.
I've never been in Switzerland but this is what I think when I hear Switzerland: Expensive, Neutral, a lot of hills and mountains + Cheese. I hope that's not to offending, haha.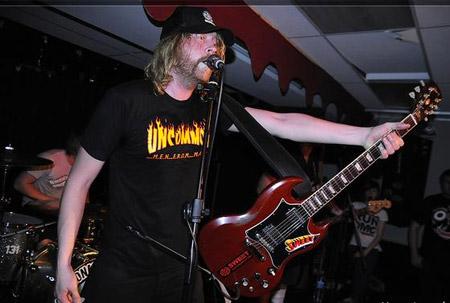 The covers of your release are... uncommon. Why did you choose these design ?
Do you mean all the covers or the new one? The first in english (Skum of the land, War is money) was made by a friend of ours that has helped us out a lot through the years. The new one 2 sides of the story was made by a guy in Hungary that I've never met actually. It was Danny that knew him and said he was an excellent designer. I'm really pleased with the cover and we're definately gonna use him in the future. He's actually working on a cover for a Japan release that we're gonna do in march-april.

So, why guacamole ? Are you a huge fan of mexican food or was it just a trip ?
I don't know. I just screamed it in the beginning of the song to wake up my voice and then we never removed it when mixing the song.

And the most important question for all the girls who always come on our website to know everything about fashion, Why did you cut your hairs ?
Ohh tough question! I had been thinking about it for some time since it started itching a lot in bed when I slept on it! Then on a tour we got drunk in the van and out of boredom I let Chris cut them off! I would lie if I said that I didn't miss them from time to time. But c'est la vie!

I hope to see you soon around, waiting for this moment I just can say a big "Tack" for these great songs you gave us !
Thank you!!! Hope to see you soon and tour Switzerland soon. We're gonna keep up the good work and write more great songs for you in the meantime! Visit our myspace.com/skumdum site for news and more songs!
Interview : Le_mHu
Plus d'infos :
Label : Bells On Records
MySpace : www.myspace.com/skumdum
Site Web : Pas de site
Site du label: www.myspace.com/bellsonrecords
Interview cliquée : 17992 fois
Interviews aléatoires :