Behemoth
Lire cette interview en FRANÇAIS

Email interview done on 06.07.2009 with Behemoth vocalist/guitarist Nergal.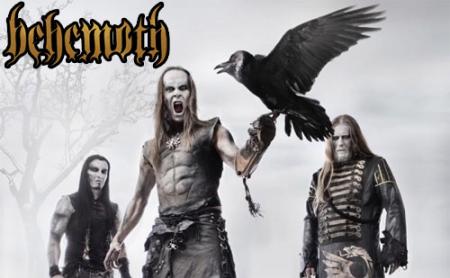 Hi, thank you for answering our questions! Let's start with the usual question (can't get rid of it) : can you present Behemoth to the Skartnak readers ?
Hey. I formed the band in 91' and I'm the only remaining member from the original line up. We started off as a primitive Black metal band and went thru some serious evolution changes. It's useless to count all the albums we ve done and numerous tours we did all over the world. Just too many to mention…

There have been some big things going on lately with Behemoth (you signed on Nuclear Blast, you have a new full-length coming out in August). How is everything going for the band ?
Actually it's goin better than ever. We've been passionate, motivated and we seriously feel there's something big coming our way. "Evangelion" is the first fruit of our cooperation with Nuclear Blast in Europe and Metal Blade in US and I couldn't be happier about it. This is first time we work with sucha collective, determined and passionate team. Just wait and see, now sky is the limit!

I've noticed that your next album "Evangelion" is going to be released the same month as Vader's "Necropolis", and both on the same label. These two releases are definitely important. What can you tell me about it ? Don't you think that two major extreme metal releases in a couple of weeks can somehow interfere with each other ?
I don't think so. We are far too different…Vader do their thing and they do it well, we are on a different planet doing our own thing. I really hope we create something unique and special. "Evangelion" is our biggest and strongest material to date…there's hardly anything that can interfere its domination. This album is doomed for success.

There have been some discussions lately about the influence a label can have on their bands. What about Behemoth in this regard, and what do you think of bands which change their music when they sign on a bigger label ?
Well, that's the first thing I told my labels: you get the album when it's done. And you know who you signing so there's no way we'll deliver a HC record…both labels have a lot of faith in Behemoth. It's shown in every action they make. We have the best relations with our record companies… it can bring only great results.

What do think about these rumours which say certain labels pull the strings to get their bands to release more mainstream releases ?
Huh, dunno man…never been in this situation. Behemoth is a super independent entity. There's hardly anything that can make us change our ways or style…Everything depend on our vision only.

When you sign on a bigger label, the method of distribution and marketing change quite a bit. What do you think of bands who stream their entire albums on the internet ? Do you think it's an efficient way of avoiding downloading ? And how do you feel when you see your album available for download months before its official release date ?
Hm…you can't really prevent downloading thesedays. Of course it's annoying…there's no magick in release dates anymore coz everyone knows the records weeks or months prior to its release. That's so lame. But that;s sign of our times my friend. We can't really prevent this. That's how it is. In our case…well, I know the album has leaked to the internet, and the way I see it is that people will know few weeks earlier how awesome the album is. I still believe majority of fans DO appreciate all the effort and hard work we put into our album and will buy the CD when it's out.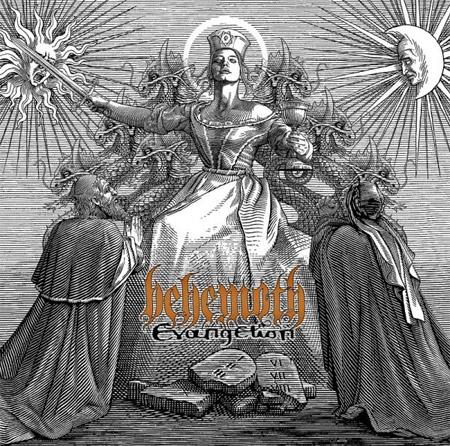 Let's now talk about the content of the album. How did you compose "Evangelion" ? What are the lyrics about, and what are the main subjects on this album ?
Well, you know what…the idea was to make a record that would be a statement. We really wanted to redefine ourselves so bad. "Evangelion" is all about taking a step back, taking all the experience that we have gained throughout the carrier and make another massive step ahead. It's both musically and lyrically very conscious, very mature album. My lyrics have always been about human being, its potential and ways of releasing it in order to make yourself a stronger, better person. No different is this time.

Music-wise, I personnaly think that the compositions got more homogeneous than the ones on the previous records. I started to notice that change on "The Apostasy", where the songs are a little less outstanding than "Demigod" or "The Nephilim Rising" for instance. The songs generally got a lot more fast and agressive, whereas others got a lot more slow and cold. What do you think about this point of view, and what can you tell me about the evolution of the songwriting from your point of view ?
I don't know really. It's hard for me to judge or to analyze it…I think after all "Evangelion" is pretty catchy record but with a bigger, and more serious approach. It's monolithinc, very solid record that works great as a whole but if you take out every song they stand on its own and keep all the charisma and character. I couldn't be happier with Behemoth's album than when I am now…it's as close as we could get to the perfect album.

From all Behemoth albums, which one would recommend to someone discovering the band, and why this one ?
Obviously this brand new one is my precious. But I would point out "Demigod" and "Satanica". Both straight forward, extremely brutal, to the point kind of records. My favourite ones for sure.

Let's talk about you if you don't mind! How is your life outside of Behemoth, do you have days jobs, what are your activities beside the band ?
Haha no, no daily jobs. To be honest I've never really had a normal job in my life. I attended University when I was 19 and was studying 6 years…in the meantime Behemoth grew so big that I could basically live off the music. I know I'm lucky. This is the best life I could have lived. When I'm off tour I like to do all the casual stuff…hang out with friends, spending time with my girl, travelling around the world, I do a lot of sports too…reading, movies. Casual stuff as I said.

What can you tell me about your project "Vesania" ? It's been quite some time since it's pretty calm if i'm not mistaken ?
Orion: Yes it's been a while. I've been really busy with Behemoth lately. It's getting more and more occupying, the band is growing. It's not an easy thing to combine being a part of Behemoth with anything else. Last thing we've done with Vesania was 'Distractive Killusions' album for Napalm Records. At this point we all have some other commitments, I am on tour with Behemoth which will take quite some time, our drummer Daray is playing with Dimmu Borgir and rehearsing with them for the new album which is supposed to be recorded next year. But the appropach we have to Vesania is still something exceptional.. for some reason we all treat it with a kind of prestigeous esteem and it doesnt seem to be changing. We're working on having a chance to do some shows in the near future and we definetely wanna do an album. Next year should be appropriate for this.  

Thanks again for answering our questions. Is there something else you would like to add, or something you'd like to say to the swiss fans of Behemoth ?
All I wanna say is that we always have very warm welcome when we play in Switzerland. Last time we were there it was Metal Dayz. Killer fest. We re coming back this fall with Devildriver supporting our new album. It's gonna be big production, big show and lotsa new and old songs we wanna refresh to the audience. Thanks for your time and dedication.
Interview : Ar-Findel, sickness
Plus d'infos :
Label : Nuclear Blast Records
MySpace : www.myspace.com/behemoth
Site Web : www.behemoth.pl
Site du label: www.nuclearblast.de
Interview cliquée : 41735 fois
Chroniques du même artiste :
Live Reports du même artiste :

Rock Altitude Festival 2016
Behemoth, Mayhem, Entombed AD, Steve 'n' Seagulls, Rorcal
Date : 10.08.16
Lieu : Patinoire - Le Locle

Ragnarök Festival 2015
Behemoth, Nargaroth, Harakiri For The Sky, Der Weg Einer Freiheit, Negura Bunget, Thulcandra, Bifröst, ...
Date : 10.04.15
Lieu : Stadthalle - Lichtenfels
Interviews aléatoires :