Rise Against
Poison the Well
02.11.09 / X-tra - Z√ľrich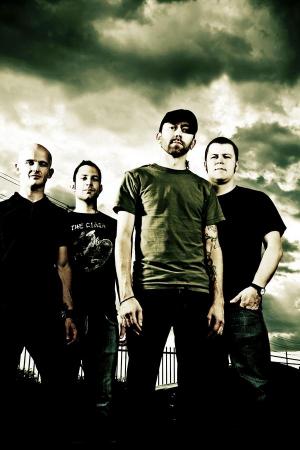 Ce lundi 2 novembre 2009, je me rends √† Z√ľrich pour mon 5i√®me show de Rise Against de l'ann√©e, avec en prime Poison the Well en premi√®re partie. C'est donc avec une grande impatience que je me rends √† ce concerts.

Arriv√©e √† l'X-tra √† 20h, mauvaise surprise Poison the Well ont d√©j√† termin√© leur set. Eh oui quand ils √©crivent d√©but du concert √† 20h15, ils ne parlaient que de Rise Against, tr√®s logique. M√™me pas le temps de passer s'acheter √† boire, on a d√©j√† louper 1 chansons et demi. Le groupe commence son show, comme toujours depuis la sortie de leur dernier album avec Collapse et encha√ģne avec State of the Union. La salle est pleine, c'est d√©j√† un point positif vu qu'on est lundi. Le groupe √† l'air tr√®s heureux d'√™tre l√†, ils nous disent que c'est le plus grand concert qu'ils ont jou√© de Suisse. Lorsque les groupes utilisent les superlatifs, c'est habituellement pour flatter le public, mais l√† c'est la v√©rit√©, Rise Against n'avait jamais jou√© dans une si grande salle en tant que headliners.

Le groupe encha√ģne ensuite avec des chansons de Appeal to Reason et de The Suffer ans The Witness, un peu trop √† mon go√Ľt, mais tant que c'√©tait celle que j'appr√©cie comme Long Forgotten Sons, Re-Eduction Trough Labor, Chamber the Cartridge, The Strength to go on et Savior, je m'en contente. Mais ils ont ensuite jou√© The Dirt Whispered et Audience of One √† la suite, les deux d√©ceptions du dernier album, ce qui a compl√©tement plomb√© l'ambiance. Ceci √©tant la preuve que les jeunes fans de Rise Against ne sont pas uniquement des adeptes du Rise Against d'aujourd'hui mais qu'ils appr√©cient tout autant, si ce n'est plus, les anciens titres. Pourquoi n'en jouent-ils pas plus? Telle est la question.

Il faudra ensuite quelque minute au public pour se remotiver, la ligne de basse introductive de Blood to Bleed aidant à l'effort. ça sera ensuite à Paper Wings et à la mythique Give it All de mettre le feu à la salle. C'est à coup de circle pit et de chant époumoné que le public ravi ses idoles. Le groupe nous laissera ensuite reprendre notre souffle avec Swing Life Away et Hero of War, chansons acoustiques apparemment fortement appréciées. Je me serai, personnellement contentée d'une des deux. Ensuite, ultime rappel avec Prayer of The Refugee, Behind Closed Doors, si je ne me trompe pas et fin en beauté avec Ready to Fall. A 21h35 le show est déjà terminé.

Ce qu'on peut donc reprocher à Rise Against, c'est le fait de ne pas jouer assez de chansons des premiers album. Leur show est également un peu trop surfait, toujours les mêmes discours aux même moments du concert. Pourtant, avec moi et les milliers de fans présents à leurs show, la sauce prend toujours.
Live Report : Sandra
Ajouté le : 04.11.09
Live Report cliqué : 3113 fois
Chroniques similaires :
Live Reports des mêmes artistes :