Primordial
Lire cette interview en FRANÇAIS

This year, the Paganfest Tour was marked by the presence of the irish metalheads of Primordial. A bit of lordliness between all those dancing happy folk bands. Also the opportunity to meet Alan, the singer and lyricist of the band, as Eluveitie began his show behind us.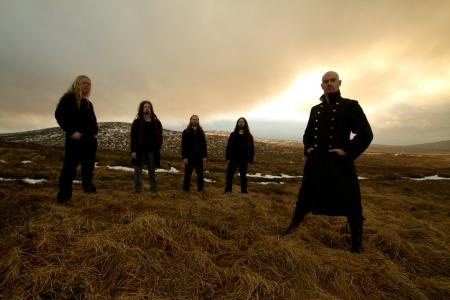 1. First of all, how is the tour going on ?
It's fine ! You know, I wasn't sure after the last time we did one of these whether to do another "Paganfest" because I know that some of our older fans got a bit pissed off...

2. Yeah the bands playing with you are not really the same type of music...
Yeah but this time because it's Sólstafir and Negura Bunget I think it's not so bad you know. If it wasn't those two bands, I don't think we'd be here... But there's lots of other reasons why we did it, but I can understand that people are like "err what the fuck are they doing ?" But Primordial isn't a underground band anymore and people have to realise that when you're in middle age, you can't no longer go on tour when it just suits you. It has to fall in your holidays from work, it has do with a lot of mondain, dull and boring reasons why you can or can't tour. As much as I would love to, you know, play with Tryptikon for 30 days or whatever, it is not always practical...

3. You've played here in Pratteln quite a few times now, what can you tell us about the Swiss audience ?
It's cool ! I like it ! The first time we've played was 10 years ago with Rotting Christ. It's always been good. The place is situated between three different borders which is good to maximise the crowd and people are positive, and have always been very supporting. Of course, some of the kids don't get it, but that's always been like that and, you know, they grow up eventually...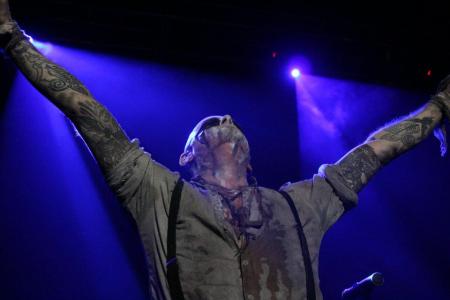 4. There were some people moshing in the crowd tonight. Are you ok with that ? It doesn't really fit your music I think...
It's ok ! There are some blast parts, some fast parts in the music, which is great for moshing and, you know, kids are kids ! I remember when I was sixteen, seventeen. We were excited and just wanted to jump around even if we didn't know the band. That's ok, I understand that. Ok, Primordial is maybe a bit more the traditional heavy metal band and some kids are shouting "wall of death" at me, but that's ok you know...

5. So you enjoyed tonight's show ?
Sure ! Ok we'd love to play a little bit longer... We have to be realistc, you have to be aware that if Primordial was headlining one of those festivals, it wouldn't attract enough people. It may attract 400-500 people, but that's not enough. You have to get 700-1000 people so it has to be that balance between the lighter folk metal stuff and the darker stuff. So we're in a weird position whereby we kinda feel a bit weird playing these gigs, but at the same time, if nobody does it, the kids would just listen to bad music, to be honest. How will the kids realise that it's not just all...

6. ... about dancing ?
You know, I don't want to piss anyone off and I'm too old to care what anybody thinks. Everybody knows my opinion about this kind of thing ("dancing" folk metal). At the same time, it's different sides of a similar thing. People try to do their history and culture some justice ! It's just my "heavy metal" way of looking at things that is a bit different... It would be nice if there was a tour featuring ourselves, Negura Bunget, Einherjer and darker, older bands like Hades Almighty, but kids aren't interesting enough in that...

7. It wouldn't attract enough people...
It would do ok ! It would attract 400-500 people a night, but not the required 1000 people a night... The other thing is that everyone is spoiled nowadays ! They won't do much effort to go see a band if it's for example during the week at a day that doesn't suit them. I went to gigs in Honduras, Salvador, Guatemala, etc, it was fucking awesome.

8. I heard people over there are crazy !
Well they not as crazy as you might think but they do a lot of effort to see the band ! Sometimes we had to deal with the military police at shows over there !

9. And is playing live an important aspect for Primordial ? Do you enjoy it ?
Yes of course ! It's the thing I enjoy the most ! I don't like being in the studio, except for the creative part. It's something you have to do if you want to have songs to perform, but the power of playing live it's what heavy metal is all about !


10. Could you quickly introduce Primordial to our readers who don't know the band ?
It's hard to do in a few words ! We've been around for more than 20 years now. I always say to people that if you see yourself as an individual, you should see yourself in Primordial. If you want the same old crap, turn the page.

11. Oh thanks that's a good quotation !
If you want the same old crap Primordial is not the right band for you... And I hope you hate it ! I want people to love Primordial, or hate it. That's important ! Anything in the middle is the worst thing you can get, it's just... mediocre... People don't have an opinion, they're just like... And that's what the Modern Age is all about !

12. Yes we'll talk about that "Modern Age" as you call it later on. First let's talk about your musical influences. You often said in interviews that Primordial has it's musical roots in black metal, but it's also heavily influenced by irish folk, isn't it ?
Well the other band members more than I. But you see, there is no obvious influence in our music. We re-interprete Irish music in a darker way and when you listen to Primordial carefully, you can hear those strange timings and and these strange open chords that come from irish music and obviously from Black Metal. From bands like Bathory and other stuff from the eighties. I'm not really into the more cheerful Irish music there's a lot of stuff that is more sorrowful and sad that I enjoy. As I said, Irish music is more important for the other guys than it is for me. For me, Judas Priest is more important for example, but that's what makes a kind of balance in the band.

13. Could you cite some of the Irish artists that inspire you ?
Sure ! The Chieftains for example, albums one and four. There's also Liam Weldon and his album "Dark Horse On The Wind", which is really obscure and tragic Irish stuff. I'm not really into bands like The Dubliners, even if it's cool to sing their songs in the pub when drunk... But you know, I'm not entirely the man to ask. If you want to know something about 80's Thrash Metal then I'm probably the man ! Haha

14. There's a band which is often compared to Primordial called Mael Mórdha...
Yes Mael Mordha ! Jerry, who plays with us on this tour, is from Mael Mordha ! Our guitar player Ciáran couldn't come on this tour because of his job, so Jerry helped us out...

15. What do you think of their music ? I think they sound a bit like Primordial.
There are some similarities, yes. But a lot of Irish bands have this sad / epic kind of sound and those "rolling" rythms and stuff. Personnally, it's not entirely to my taste, but we've known each other for 20 years ! We're friends and we support each other. The days we used to be in competition with other bands are past us. My favorite irish band is Mourning Beloveth, it sounds like old My Dying Bride. I really like funeral doom, this kind of stuff. Darkest Era is also a good band, they're young guys and girls, also from Metal Blade Records, they sound a bit like Primordial, mixed with Omen, Warlord, or something. They are really good, you should definitely check them out!

16. We sure will ! Now I've always been amazed by your lyrics ! What is your inspiration when you write them ? Do you read a lot ?
You know, the thing is I don't consider myself as a particularly great singer. I do okay, with what I have. I would never compare myself with Dio, Rob Halford, Bruce Dickinson or other great 80's rock vocalists like those from Bad Company, UFO, Uriah Heep. Those are the singers I look up to ! I mean, I do ok, but as a lyricist is where I'm probably stronger. I was always very "bookish" as a teenager and read a lot of science fiction, but also English literature and stuff about philosophy and of course history since I studied political science in college... Writing lyrics comes quite naturally to me. I now write less metaphorical lyrics than I did in the early days because I'm aware of the fact that English is not everyone's first language so I wanted to become a bit more direct. I also wanted to make the singing as clear as possible so that you don't need the lyric sheet. I try also to use a simple English to be sure to get the message across. If people want to find a message in our lyrics, it's there ! If they don't want to, it's ok. I mean, "Empire Falls" for example is like a classic Heavy Metal tune to me. It's inspired By Iron Maiden and Judas Priest and if you just want to headbang to it and drink beer it's ok ! If want to read the lyrics, they're there to !

17. That's also the song that first got me !
And many people, and many people. And the good thing about it is that nobody wants to hear only our first album when we play. I think most of our younger fans have known us with the last two albums and that's great. It's good for us, cause it means we grew slowly, but constantly. It's hard to sell records nowadays, but we seem to sell a bit more everytime !

18. The loss of culture seems to be an important theme for you. Do you think that the Irish culture is threatened by globalisation ?
That's a very broad question ! It's not just the irish culture, it's everywhere ! We're living in an "fast-food culture" age where banality, mediocrity, soullessness is prized over creativity or worth and the only people that are pushed to preserve their cultural heritage are called "right-wing" by the left. This destroys the middle ground in politics and drives a wedge between people. We have also the further integration of Europe which is slowly eroding the different cultural aspect of some other countries... Ultimately there's a feeling as if the war is lost but we might try to win a battle. We do it in our way with the band by trying to tell people "look, try to think where you're from, to figure your relationship to your culture and history and think how you could use it in a positive way". Obviously there's a lot of anger and rage in our music, but it tries to enact some sense into people. But it's not easy since we're living in a consumer culture where people feel disconnected from history...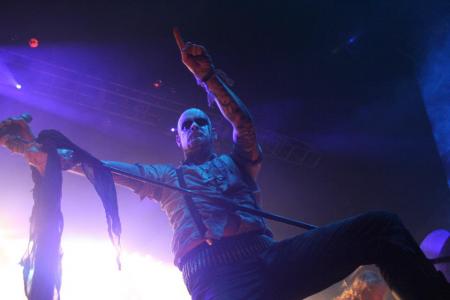 19. Do you think there's a way to go back ? Should we go back ?
I'm not a romanticist ! Going back to what ? 1939? 1916? Where would you go back to? I think we've created a culture, especially for young people, where all the role models are superficial, meaningless, where history is almost a dirty word, where relation to history almost paints you in a negative corner. It becomes very dangerous because Europe becomes like a melting pot and if you ignore all the indigenous people in Europe, they're gonna move to one side either extreme left or extreme right, especially since we're in a kind of recession now. People lose their jobs. We live in dangerous times right now ! In the blink of an eye, you can have riots in London or in Paris and the politicians don't know how to deal with it ! In my opinion, we've now seen the failure of unregulated capitalism with the recession even though maybe it was all planned ! It's a kind of double-reclamation of people's taxes to pay off debts that weren't there in the beginning... It's a complicated thing, but these are dangerous times and that's what I am trying to write about. I'm not interested in writing about a mythological figure who did something 2.5 thousand years ago just for the sake of fantasy ! But that doesn't mean every band should do like us ! You need Primordial as you need...

20. ... Manowar ?
Yeah, everything has it's place ! But unfortunately in modern metal, the bands that sell a lot of records nowadays are less good that the greats bands in the 80's or 90's. Nowadays, all the good music is in the underground. Which says a lot about our culture. But heavy metal has changed !

21. So now let's talk about the latest album "Redemption At The Puritan's Hand". Could you explain the title ?
It's complicated ! It's about spirituality, mortality, about moving in the second phase of your life, it's about your relationship to death...

22. Is it a kind of middle age thing ?
Yeah it's about growing old and seeking redemption in your everyday life. And sometimes you look at people like puritanical, religious people, with faith, and it feels almost like envy. At least I do... Even if I disagree with them, I sometimes, in a complicated way, envy them...

23. Ok I think I understand what you mean ! This album is now out for a year. What are the responses of the fans and the critics ?
The critics are very good ! Although some people found it harder to get into this album than into "To The Nameless Dead". It's a bit darker, some people got confused, but that's ok ! Maybe the next album will be all like "Empire Falls". We don't plan it. It just comes out like it comes out. But I think ultimately the most complicated records can often be the most rewarding ! It just takes more time... I just hope people have the patience.

24. I also noticed that there aren't any explanations concerning the lyrics in the booklet as it was the case for the previous albums...
I decided to leave them out this time because people were beginning to expect that. Routine is the worst thing for a band. You gotta shake it up !


25. Let's talk about Twilight Of The Gods ! Do you intend to do another tour with this project or are you done with it ?
Not a tour, but we'll make an album, which will be a kind of epic traditional heavy metal ! I think the Bathory thing is finished. It was cool, we had fun, but now we want to write our own material...

26. Is the music inspired by Bathory ?
A bit... It sounds like a mix of Bathory, Iron Maiden, Accept , a bit of Mercyful Fate and Dio...

27. Oh that's cool ! I'm looking forward to it !
Yeah we'll do it during summer ! It'll be cool !

28. What about your other project ? The death detal thing ?
Blood Revolt ? It's absolutely mental ! I won't call it "death metal". Well, maybe it sounds a bit like old school death metal with clean vocals. Very fucked up music ! I'm playing together with the guys from Revenge and Axis Of Advance.

29. Is there any album planned ?
I hope we'll be able to release one, but I don't know yet. We haven't written any songs yet...

30. Which metal bands are worth listening to these days according to you ?
As I said, mainly underground stuff ! That's what I listen to. Lots of underground black and death metal such as Necros Christos, Funeral Mist, Sonne Adam. There's a lot of good stuff out there but it's mostly in the underground. There are many people from the underground that want to reclaim back the scene ! Just look at the line-up for Hell's Pleasure or Hole In The Sky or Headbanger's Open Air and all those proper Metal festivals and you'll see what I mean. In Solitude and Portrait are also good bands !

31. Yeah you gotta dig a bit....
You have to dig ! Or else you'll just be left with the shit !

32. Hahaha all right ! Ok last question, perhaps a bit more personal... What do you do for a living ?
That doesn't matter !

33. Yeah I was expecting that... Hahaha
You know, I've studied for years, now I don't study anymore... I also work in the music industry... But it doesn't really matter !

34. Ok I accept that ! Do you have any last words for our readers ?
Joy and strength !
Interview : Loulou, Weltengaenger
Plus d'infos :
Label : Metalblade Records
MySpace : www.myspace.com/primordialofficial
Site Web : www.primordialweb.com
Site du label: www.metalblade.com
Interview cliquée : 44392 fois
Chroniques du même artiste :
Live Reports du même artiste :

The Ghosts Of The Charnel House Tour
Primordial, Svartidaudi, Ketzer
Date : 28.04.16
Lieu : KIFF - Araau

Summer Breeze 2011
Benighted, Grand Magus, Corvus Corax, Týr, Primordial, Moonsorrow
Date : 20.08.11
Lieu : Open Air - Dinkelsbühl (Allemagne)
Interviews aléatoires :