Within Walls
Lire cette interview en FRANÇAIS

MSN Interview done on 27.06.2007 with Seb and Dave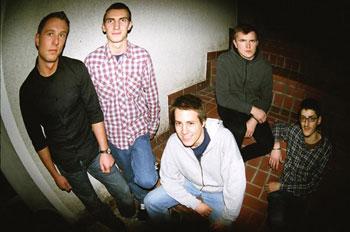 Can you introduce yourselves? When did the band start? Who plays what?
(Dave and Seb here, we answer together when not mentioned) We started as a 3-piece project in November 2005. The first full lineup came together in February 2006. Unfortunately, we had some lineup changes over this short period of time, which always stopped us from proceeding. Since February 2007, we have had a lineup which will hopefully last for some time now. Dave sings, Gilli and Seb play guitars, Grecco plays bass and Sam drums.

Are you currently involved in other projects? I mean, related to hardcore...
Grecco plays guitar in a crust punk band named Ekzem, Sam in a street punk band called Sullen Crook. the last one mentioned is from Switzerland, so you should know them.

Don't you have zines, record labels or distros? Do you put on shows in your town?
Oh okay... I thought you meant only musical projects... hahah. Well, there is quite some hardcore related stuff we do. We have a collective of a small group of people. Some of us book shows at our local venue, Cafe Schlachthaus in Dornbirn. Others cook or help out at shows. All Roads Lead To Rome is our fanzine, where everyone can participate. But as you might know, fanzines are a lot of work and so it's been released pretty unregularly so far. We will start working on issue number 4 this summer. What has to be added here, is that hardcore to us is more than playing in bands and making music. It´s about being active in a DIY way to create some free space within our society. Hardcore should be an alternative to the mainstream, a place where you are not just forced into a consumer role.
Yeah I totally agree with you. It makes me think of what's been happening recently in our area. We're just a bunch of kids, you know, not really numerous, but dedicated to the core. It seems like everyone finds his or her own place, whether it's for cooking some food for bands or playing or whatever...Not only musicians are accepted!
There's not a lot of kids here too, but a few with a heart at the right place and that's what counts.
Yeah that's it!

You're from Austria, but you come from a town that is close to borders. Have you noticed any differences with the German and the Swiss scenes? Have you noticed any specific aspects peculiar to each of these scenes? Positive or negative aspects?
Our scene is really affected by the 2 countries, Germany and Switzerland, which are situated around us, both reachable in a 20 minute distance. Of course, there are some differences on peoples´ mentality, somehow related to education, culture and socialisation, but also because of different musical and ideological influences. Hardcore is a broad term, with a lot of interpretations... We have our own musical socialisation built on some outspoken political influenced bands and the history of our country. For this reason, we have maybe a more sensible way of dealing with certain topics, be it jokes on Hitler or discriminating women and homosexuals, as we noticed in some corners in Switzerland over and over again. We are not a PC band and overall just humans who also say stupid things from time to time, but...there are some fundamental ideas, like anti racism, anti homophobia, anti sexism in hardcore and punk which are still important to us. Of course, we don´t want to generalize Switzerland, we also made the experience in Austria or anywhere, but recently we noticed the above-mentioned example in our chocolate neighbour country. We don´t want to blame anyone, but we think that things like that are also kind of cultural differences.
Mmh, I think I know what you mean...but then again it makes me think of a question that often appears in debates: is it possible to laugh about everything? I think it's definitely important to promote certain values, to condemn all kinds of discrimination, but laughing about some sensible topics can be another way to express an opinion. What do you think?
Yes, it´s definitely possible to laugh about everything and take oneself not too seriously. The National Socialism topic is especially something that should not be silenced or treated in this conservative way, like in the last 50 years. Anyway.... it´s maybe a question of humor, but it definitely gets on our nerves when you hear the same old jokes again and again.




Within Walls seems to be a band that is willing to express a strong message through lyrics and live shows, right? But as you always speak German live (and you should know that my German really sucks!), I was wondering what is the message that you usually want to pass on? In other words, what do you guys stand for? I think you have partly answered to this question, but do you want to add something more?
Well, Dave speaks German when we are in a German speaking country. We were talking Polish in Poland for example and Dutch in Holland. Nöken in the köken! No, we speak English then, but you are right with your assumption that the message is very very important for Within Walls. There are a lot of topics on which we have a stance on. We can´t reduce it on one message or one aim. Within Walls is about breaking out of the common pattern of thinking. We want to make people question their environment and most importantly themselves. Truth is a matter of perspective, there is sometimes no right or wrong.

A few years back now, Austria lived a frightening event as extreme right wing politician Haider got elected to rule the country, right? I'm not sure he was voted for president but well he got some power, politically speaking...How did the Austrian youth react to that? What about you personally? What did you think of it and did you do anything against it?
To make a correction, Haider has never been president or in a leading position. But his populist right wing party (FPÖ) made it into the government, because our conservative party needed a coalition partner. The percentage of his votes was never more than 30.
OK! Thanks for the correction!
Seb: I was studying in Vienna at that time, where it was going a bit crazy after the elections in 2000. There were "performance artists" and big demonstrations organized by socialists, communists, students and all the other opportunists. I was also taking part at the weekly demonstrations, which were holding on for at least a year. There were also demonstrations in Dornbirn, but smaller and not so important ones. Demonstrations are maybe old school, but still a form of direct action. This weekend, there were the big G8 demonstrations in Heiligendamm/Germany. Lots of street fights against the police. They built a fence to keep the demonstration away from the politicians. And still there were people yelling, holding signs, speaking out, hitting on the police and showing the world that there is something wrong with the world order today. Pictures from Heiligendamm, which you will see in newspapers tomorrow. pictures that will go around the world and will hopefully make people think why there is someone taking that risk of getting arrested or beaten up by police.
So it kinda depends on the medias then?!? I'm sometimes a bit skeptical on demonstrations, but once you get the attention of the medias, then it's a whole other story...The problem is the medias abuse of their power by inventing something that actually never happened, you know, they distort the truth!
Media just lets us know what they want us to know, but you have to differentiate a bit. There is independent media, the big media and there are for example already videos from Heiligendamm online on YouTube, posted by people who were at the demonstration and taping the actions.
Mmh...yeah no doubt that a video on YouTube or a little article attracting the big medias can have a big impact...
If it doesn't have a big impact, it´s still better than sitting at home watching "Sex And The City" and "SEX AND THE CITY IS NOT BAD"!
Yeah of course I agree, it's better than nothing! And noooooo...Sex and the City sucks!!! Haha !
Haha…okay, but Desperate Housewives is exciting!

Do you like reading? What are your favorite books, zines, authors?
Dave reads his anatomy book a lot at the moment, which is a subject of his education. Seb is reading Dan O´Mahoney books currently. Concerning fanzines... Three Chords rules!!! The Heat rules even more, Will To Speak and Break Away rule too!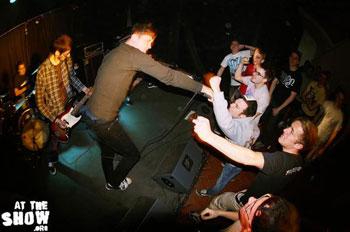 Considering that a HxC show is like a big fruit salad (!?!?), what are the best ingredients for a good (even perfect!) hardcore show? What makes a hardcore show so exciting in your view?
Definitely no couch potatoes, but potatoes aren´t fruits! Anyway, bring some moshed potatoes and the pit will go off... which is not everything although. A good hardcore show can hardly be described in words, but if you are there, feeling some kind of positive energy you never felt before, then you know it´s a good show.

Just for fun! Schwarzie or Stallone? I told you we're dickheads at Skartnak! Haha
Stallone made out with Sharon Stone in THE SPECIALIST. Schwarzenegger will always be THE TERMINATOR...no idea... hard one!

This one is for Seb. Sorry Dave!
Dave: No problem!
Last time we met, you told me that you worked in a youth centre. Can you tell me a bit more about this job? And do you see any connection between your professional orientation and your investment within the HxC scene? We already talked a bit about it...but let's do it again!
Seb: I remember us talking about that. Yes, I am a youth worker/social worker. Social jobs are quite popular in the hardcore scene, which is easily comprehensible to me. Hardcore and punk is dealing with political topics and talking about the problems of society. Social work is the professional approach to do something against these problems. There is also a political aim in social work... Speaking out against wrong progress and social grievance is something hardcore and social work have in common for example. It's also about doing something positive, not just making money on other peoples cost. Same like the hardcore underground idea... you see there are a lot of things that perfectly fit together.

For the two of you: Do you think fashion has its place in hardcore? You might find this question stupid, but it seems that a lot of today's hxc kids are quite stereotyped and worried about their image...It's not a judgement, it's only an observation. So what do you think?
Fashion, image and beauty have their places in today´s society. The hardcore scene is a part of this society so it´s kind of "normal" that kids bring those things into the scene. Anyway, a certain style of dressing up or other symbols have always been a way to identify yourself with a subculture or a group of people. Fashion can even be some kind of art or expression. What you should ask yourself is how many clothes you need to be happy and if you judge other people by the way they look? It shouldn´t be more important than ideas and content.
But then again, hardcore, well at least as I understand it, is supposed to keep a critical view on society and not accept everything of it...I recently read an interview of Craig Ahead and he told something like "hardcore is the style without style". I quite agree with that...but I must admit that I am myself a fashion victim as I look more like my friends than like most of people... I agree with you when you say that fashion is some kind of art or a way to express yourself, but I'm not sure it's the case for a lot of people...
Seb is also a fashion victim because he loves clothes and more important shoes!!!! There are so many beautiful sneakers out there!!!!!
Haha! Don't forget, only leather free shoes are rad!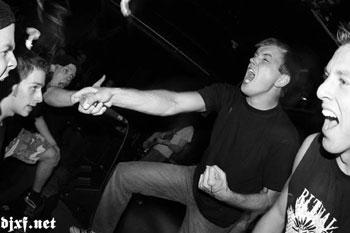 Haha, so what shoes do you wear currently?
New Balance
Sweet! I also have a pair of New Balance.
OK ! Cool !
Anyway... fashion is definitely overrated. Seb: I go to discos a lot, where people really dress up and talk a lot about style. But to be honest... I see no big difference with the hardcore scene and hardcore should be different, right?
I agree!
Hardcore kids spend $ 100,- for one Judge Schism shirt, the disco kids spend $100,- for one Dolce and Gabbana shirt. If you´ve seen Within Walls live, you may have noticed us wearing blank shirts on stage. We want kids to pay attention to our music and our message, not to what we wear.
Yeah, but I personally have only bands (T-)shirts cause I think it's worth supporting bands I like by buying some of their stuff...but I'm not into collecting hardcore clothes at all!!!! Ok next one!

In the record, it's written that you support a drug free and vegetarian lifestyle. How important is it to you?
We are not a straightedge band anymore, since we have the new line-up. We have never labelled our band straight edge, but the individuals in Within Walls have all been straightedge. Now we have some non-edge kids in our band, which is fine too. Being drug free and vegetarian is important on an individual level to us, because it´s our daily lifestyle since years and it´s still "the punk of today", but as a band we never wanted to exclude anyone.

What do you think of the current European hardcore scene?
It´s getting bigger and bigger, and bands make it to the US twice a year, like Rise And Fall for example. This is an amazing progression, because in the last 20 years of hardcore, everything has been dominated by the US.
It's great that Americans finally pay attention to European bands!
In some cases, you see the difference between US and Euro bands. Especially when it comes down to trends. Right now, there are a lot of Euro bands doing melodic old school, while this trend is already long gone in the US. And you know that a lot of these bands will jump on the next trend from the United States. Anyway it´s great that Americans pay attention.
You seem a bit pessimistic about the local scene. Am I wrong?
Not pessimistic. we like melodic old school a lot more than metalcore for example. But to be honest, there are only a handful European bands sticking out and always a lot more quality bands from the US. I don´t know what they eat there, but their sound is mostly better than ours.
Ok! But as you refer to trends, it sounds like we, Europeans, depend on what's happening in the US! And well, maybe you're right...I'm actually thinking while I'm writing, and well I'm not even sure of what is my point of view on the differences between both scenes! i'm tired...next one!
Hahaha…Go Bastien!

What are your plans for the future? Is there any chance to see you on tour soon?
We will record a split 7" with our bros NOTHING GOLD CAN STAY this summer. And in fall, we will write and hopefully start recording a full length album. This is our main focus for this year... We'll play some weekend shows and next year we will definitely do a tour again.
So the future is bright for Within Walls!!!
We hope so...what we were discussing recently in the band was the fast pace of life today and how this affects the music scene. Bands come and go so fast these days you can hardly keep up. Right after the 7", the lp comes out and in between 2 European tours are happening. The speed is incredibly high, but after 2 years everything´s over. The whole society has such an inhuman speed a lot of people can´t keep up with. Hardcore should be a bit more mellow and we deceided that Within Walls is not in a hurry anymore!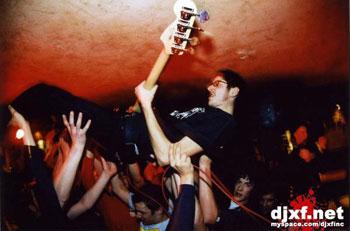 Can you give me your Top 5 records of all time...please?
Seb:
Trial- Are These Our Lives?
Bane - It All Comes Down To This
Unbroken - life.love.regret.
Speak 714 - Knee Deep In Guilt
American Nightmare - Background Music
I need 6
No way! Haha !
Strife - In This Defiance Haha... how much for letting Strife in my Top?
It's simply not possible dude! It's an heresy! Haha ! You don't respect Skartnak rules!
Seb: Skartnak rules suck!
Dave : Trial - Are These Our Lives?
Strife - In This Defiance
American Nightmare - Background Music
Sage Francis - A Healthy Distrust
Cursed - Two

Ok! A few more silly questions! Rice drink or soya milk?
Bitter Lemon
Black Flag or Minor Threat?
Trial
Grrrrr...Apples or oranges?
The shit is Bananas B-A-N-A-N-A-S
Elephants or crocodiles?
Both...manufactured as shoes and bags.
Haha...stupid kids! Any last words?
Nike or Adidas? Mc Donalds or Burger King?
Nike, done by the children for the children...
Hahaha… pretty hardcore huh!
Last words: Thanks to Skartnak for the funny, long and substantial talk and for being interested in our band. Check out Nothing Gold Can Stay, Worlds Between Us, Anchors X Up, Ritual, The Death of Apathy, Heartbreak Kid, Alone, Gold Kids, Empty Vision, More Than Ever, Fall Apart. Dopest dudes in awesome bands!
Thanx to you! I hope to see you soon in the "real life"!

for our swiss friends who read that and think we want to piss on their legs;) a small analysis of what we said and what we ment: "We have our own musical socialisation built on some outspoken political influenced bands and the history of our country." our country was totally involved in WWII and Nazi Germany. our grandpas had to go to war, some never came back, some did, but they weren´t the same. our grandmas told us stories about that time, through concerned eyes and sometimes with sad voices, in deep regret for what they voted and were part of. our grandparents were living witnesses and their fate is our history. Switzerland wasn´t involved in WWII, only in a business way. "For this reason, we have maybe a more sensible way of dealing with certain topics, be it jokes on Hitler or..." "...as we noticed in some corners in Switzerland over and over again." says that we definitly don´t want to generalize all individuals in Switzerland. should be clear, clearer, clearest ...but once again we make an assumption: "Of course, we don´t want to generalize Switzerland, we also made the experience in Austria or anywhere, but recently we noticed the above-mentioned example in our chocolate neighbour country. We don´t want to blame anyone, but we think that things like that are also kind of cultural differences."
a conclusion in 3 points again:
1. we still love our friends in Switzerland, be it some with sensible words on Hitler or some with jokes we don´t understand;)
2. it´s awsome that people in hardcore start to discuss something interesting through our interview
3. please read carefully and think about it, before you post some shit. the internet is scary!
Seb on behalf of W.W.

Interview : Bastien
Plus d'infos :
Label : Blacktop Records
MySpace : www.myspace.com/withinwalls
Site Web : www.withinwalls.org
Site du label: www.blacktoprecords.de
Interview cliquée : 9322 fois
Chroniques du même artiste :
Interviews aléatoires :